Ulrich Landvreugd: Barnet assistant head coach leaves club
Last updated on .From the section Football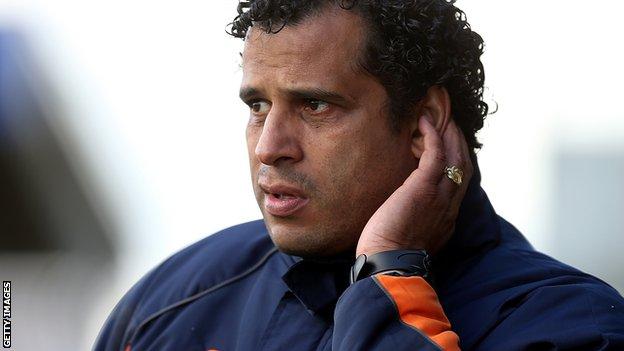 Barnet assistant head coach Ulrich Landvreugd has left the Conference Premier club with immediate effect.
Landvreugd was subsequently placed in joint charge of all footballing matters when Davids resigned in mid-January.
A Barnet statement said the return of Martin Allen as head coach last month "means a change in direction".
Landvreugd oversaw training sessions and occasionally took charge of the side from the bench during Davids' tenure while the ex-Ajax and Juventus midfielder was playing or absent.
After Davids quit The Hive in January, Landvreugd took joint charge of the Bees alongside Dick Schreuder and helped guide them to wins in his first five games in the dugout.
However, after three defeats former Gillingham boss Allen was appointed at Barnet for the fourth time in his managerial career.
"As Barnet gear towards the 2014-15 season changes will be made throughout all areas of the club," a statement on the Barnet website said.
"The key moving forward is for Martin to assemble a team of staff who he feels can work with the first team in order to achieve the club's primary aim, promotion.
"Everybody associated with Barnet would like to thank Landvreugd for his contribution and wish him the very best of luck in what we have no doubt will be a successful career."