Damien Duff confirms Fulham exit and eyes move to MLS
Last updated on .From the section Football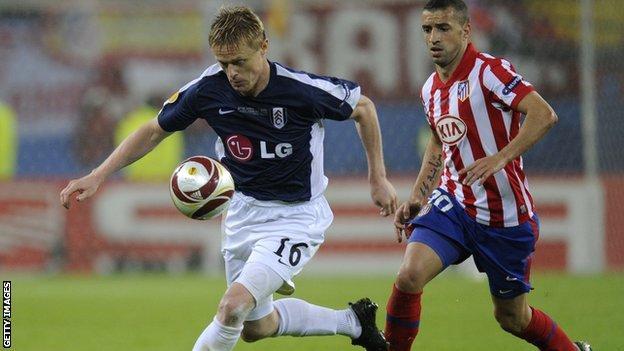 Veteran Fulham winger Damien Duff has confirmed he will leave Craven Cottage at the end of the season.
The 35-year-old joined Fulham from Newcastle in 2009 and has made 173 appearances for the west London club.
His current deal expires in the summer and he is tentatively exploring the option of moving to the United States.
"I'll be leaving Fulham," Duff told the Irish Times. "The club haven't spoken to me and I haven't spoken to the club but we don't need to speak."
The Republic of Ireland international helped Fulham reach the Europa League final in his first year at the club but his final campaign has been disappointing, with a knee injury bringing his final season to a premature end.
The former Blackburn Rovers and Chelsea midfielder said he would like "to taste something new", before finishing his career in the League of Ireland.
And Duff admitted former Ireland team-mate Robbie Keane, now of LA Galaxy, has suggested a move to the MLS.
"He obviously loves it and every six months I see he's signed a new deal so he'll be there for a good while yet," Duff said.
"We'll see what happens but I wouldn't mind trying it to be fair, but I have to get back fit first. I've got a screw in my knee now and a screw in the knee of a jinky winger doesn't really go hand in hand, but we'll see what happens."
Duff's appearance off the bench in the FA Cup fourth-round exit to Sheffield United in February looks to have been his last for Fulham.