Hearts: Ann Budge thanks fans for ushering in 'new era'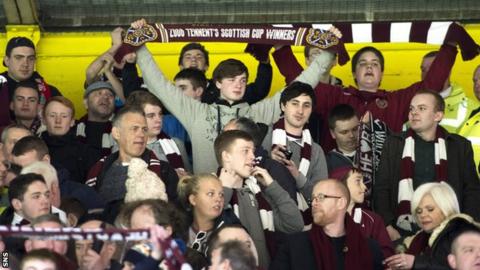 Hearts' chairwoman designate has thanked the club's supporters for helping to usher in "a new era".
Ann Budge aims to complete a £2.5m takeover after creditors approved the sale of shares.
"This is the beginning of a new era for Hearts," said Budge. "I'm very much looking forward to the beginning of this new chapter in the club's history.
"We're not across the line just yet but this is a very positive step and we're almost there."
Hearts' largest creditor Ukio Bankas - which held a 29.5% stake as well as security on Tynecastle - have agreed to sell their shares to Budge's Bidco company.
It follows a deal signed last week with the bank's parent company, UBIG, to buy the investment company's 50% holding in Hearts.
Budge thanked the club's fans and expressed confidence that Hearts will "once again become one of the greatest clubs in the country".
She added: "The fans have been magnificent throughout but I would urge them to keep backing the team in their numbers during the last few games to ensure we get to the end of the season.
"The end is now in sight and together I am confident we can achieve our target."
Hearts boss Gary Locke expressed relief at positive news for the troubled club, who will play in the Championship following their relegation from the Premiership.
"Relief more than anything; having experienced what we have in the past 10 months has been very difficult," said Locke.
"I've tried to be positive all along. I've spoken to Bryan Jackson a lot and having dealt a lot with the Lithuanians in the past, I knew it was going to be very difficult.
"We've got a bit to go but I'm just happy for the players, especially. They've been through a lot this season, they're a young side and it'll be great that they can hopefully get a bit of clarity.
"It's great for the fans as well; they've stuck by the club unbelievably, especially in the last year. The things they've done to keep the club afloat have been remarkable.
"BDO were in touch with the players and kept them up to date with everything that was going on. The players and the backroom team really appreciated that.
"It's great now that Ann's going to come in and take over; we've now got a Hearts person in charge of the club. No matter what happens, we know the club's in really good hands.
"We're going to have Hearts people running the club again which is absolutely magnificent. We've had our highs with the cup wins but the last year has been as low as it gets in all of my time following the club.
"It's great that the club's going to move forward again. As I've said all along, the most important thing is Heart of Midlothian Football Club surviving.
"I'll sleep better tonight than I have done in the last couple of months."
Administrator Bryan Jackson, of BDO, said they had been "working tirelessly" on behalf of the club to safeguard its future.
"There is still some work to be done to conclude proceedings but we are now very close to a successful conclusion of the CVA," he said.
"However, I would caution that there is a cooling off period for the consent for the UBIG creditors which ends on 28 April, although not one for Ukio as they have a creditors committee, and we are working to have the sale and purchase agreement concluded, hopefully, before the end of the season."
Scottish Football Association chief executive Stewart Regan said Hearts would soon be able to focus on action on the pitch.
"Hearts have been on a journey to try to recover from a very difficult period in their history," he said. "The club has gone through the mill and have tried to get support to sell the club on from UKIO; that's now been delivered.
"I think it's good news for Scottish football. It will allow the club to exit administration in the not too distant future and start focusing on football once again."