Rangers' 120-day business review nears conclusion
Last updated on .From the section Football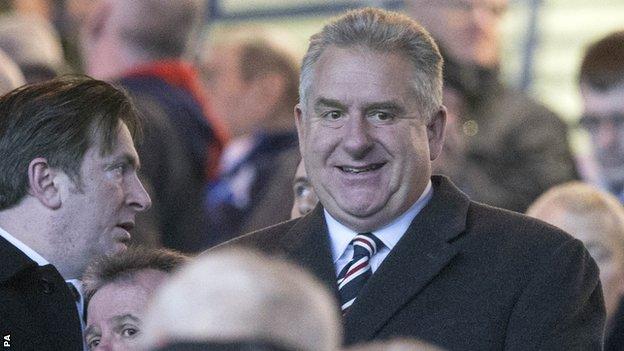 Rangers chief executive Graham Wallace is completing his 120-day review of the club's business operations.
Last month's interim accounts for the League One champions showed cash reserves of £3.5m, down from £21.2m.
And manager Ally McCoist says his squad rebuilding plans are on hold until after the review.
Rangers have pledged to release details of Wallace's findings on 25 April in response to the threat of fans withholding season ticket money.
Former director Dave King, who is campaigning for a fresh share issue in the club, had alleged the board would not reveal details of the review until "funds had been largely collected".
And King has set up a trust fund for supporters to deposit money set aside for season tickets.
Supporters' groups coalition Union of Fans is backing King's move and says the money will be released once fans are given security of Ibrox Stadium and the Auchenhowie training ground.
Following the AGM, Wallace admitted that the club's cost base was too high, "even for a top-flight club" and, in January, the playing squad refused to accept a 15% wage cut.
That followed McCoist signing off on a pay cut of around 50%, which he agreed to in October.
Earlier this year, a £1.5m loan from two shareholders - secured against Edmiston House and Albion car park - led to questions over the club's immediate future.
But Wallace insisted there was no threat of a second administration for Rangers, and this week he was pleased to reveal a new three-year shirt sponsorship deal, saying it was proof of the club's "substantial progress off the field".