Gareth Bale: Copa del Rey winner incredible, says Xabi Alonso
Last updated on .From the section European Football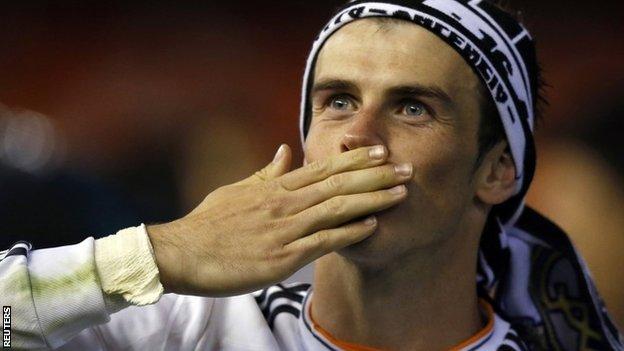 Gareth Bale's late Copa del Rey winner was "amazing", according to Real Madrid team-mate Xabi Alonso.
"It was incredible, I have never seen anything like it," said former Liverpool midfielder Alonso.
Barcelona boss Gerardo Martino said: "It is difficult to see a player sprint like that at that stage of the game."
Bale had been accused of not delivering in Madrid's big matches since arriving at the Bernabeu in a world-record £85m move from Tottenham last summer.

But, without the injured Cristiano Ronaldo alongside him, and with the final poised at 1-1, the 24-year-old won the final with a fine run and finish for his 20th goal of the season.
Bale picked the ball up just inside his own half and went round Barca defender Marc Bartra before stabbing under keeper Jose Manuel Pinto.
"I had to get round the player and go off the pitch to do it," laughed Bale. "It was good to get the goal."
Alonso - who has now won four trophies since leaving Anfield for the Bernabeu in 2009 - said: "It looked like the ball was going out, but he kept pushing and ran off the field to get it. It was amazing."
Real manager Carlo Ancelotti, who adds the Copa del Rey to domestic cups won as a manager in Italy and England, said: "Bale scored at a critical moment. For sure it's his most important goal.
"I'm very happy for winning the cup. We deserved to win. I think Barcelona played well. Maybe things haven't worked out for them this season, but they will still fight for La Liga.

"Everyone says that this Barcelona team has finished their cycle but my opinion is that it is very dangerous."
Barca boss Martino, 51, had faced criticism after falling four points behind La Liga leaders Atletico Madrid with a shock loss at lowly Granada, days after Atletico knocked them out of the Champions League.
But he insisted that he will not be sacked despite another setback.
Martino said: "Obviously this is not a good moment. It has been a hard week on all fronts.
"As I have said for one, two, three months now, I don't feel that my future has changed because of all that we lost, and nor do I think it would be different if we had won."