Hearts in good hands, says former chairman George Foulkes
Last updated on .From the section Football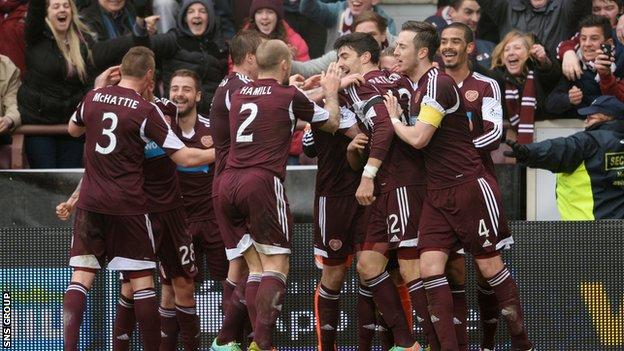 Former chairman George Foulkes believes Hearts are on the right track as they prepare to exit administration.
And Budge plans to act as executive chair before transferring ownership to fans' group Foundation of Hearts.
"It will be the biggest club in Scotland owned completely by its fans and that really is transformational," enthused Foulkes on BBC Radio Scotland.
Hearts entered administration in June with debts close to £30m.
They started the season with a 15-point deduction and have been relegated from the Premiership.
However, the mood at Tynecastle was celebratory on Wednesday as creditors of Ukio Bankas approved the sale of of their 29% shareholding in the club.
It follows a deal signed last week with the bank's parent company, UBIG, to buy the investment company's 50% holding in Hearts.
"Like all of the fans, I'm absolutely delighted," added Foulkes. "It's yet another step on what has been a long journey - not just over the last 10 months but over five years, since the foundation was set up.
"There are still one or two steps to go before Ann Budge can take over, then another few years for the transfer to the full ownership for fans. That will be a fantastic event."
Budge, 66, will work "on a no-fee basis" before handing over control to the fans' group within five years.
And Foulkes thinks Budge is the best person to lead Hearts on their recovery from a period of uncertainty.
"I'm absolutely sure they are the right people," said the Labour peer. "Ann Budge is a long-term fan and all the people around her are regular attenders at Tynecastle.
"There has been a huge enthusiasm, probably the most dramatic thing about the last 10 months has been the support of the fans.
"They have turned out in their thousands, they have bought season tickets, taken part in fund raisers, contributed to the foundation with monthly pledges - it really has been a revelation."
Foulkes was instrumental in bringing former owner Vladimir Romanov to Tynecastle in 2004 and resigned his post the following year following the sackings of chief executive Phil Anderton and manager George Burley.
"It's been a helter-skelter ride," he added. "We won the Scottish Cup twice, which is more than most clubs in Scotland have done, and we had our downs as well.
"Now we are on the right track to be owned by the fans and I hope and expect other clubs will look in that direction as well."