Former striker Nathan Blake concerned by Cardiff City claims
Last updated on .From the section Cardiff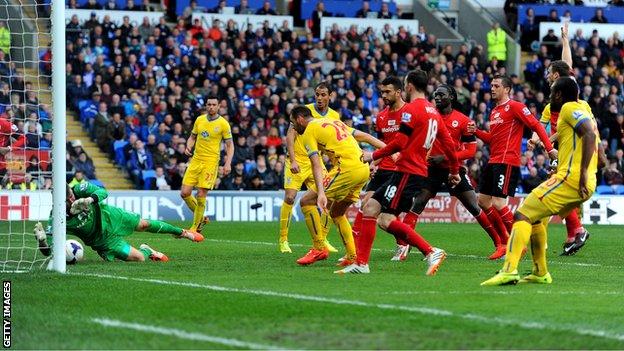 Ex-striker Nathan Blake has expressed concerns at Cardiff's claims that team details were leaked to Crystal Palace.
The club have confirmed a complaint has been lodged with the Premier League.
Blake, who played for Cardiff between 1990 and 1993 said that, if the allegation was true, Cardiff would be "well within their rights to complain about it".
"If what has allegedly happened, has happened, I think it is a step too far personally," Blake said.
A Cardiff spokesman said on Thursday evening: "A formal complaint has been submitted, concerning what we consider to be a serious breach of Premier League rules.
"We have asked for an investigation into the matter, which is now in the hands of Premier League officials who will report their findings in due course.
"At this time it would be inappropriate to discuss any specifics while the investigation is ongoing.
"The club has every faith in the process and will welcome the views of the Premier League."
The document, sent by club lawyers to the Premier League and seen by the BBC, alleges Palace boss Tony Pulis knew sporting director Iain Moody was trying to obtain the Cardiff starting line-up before the game.
The Welsh club say they have proof Moody, who worked for Cardiff until earlier this season, succeeded. Pulis declined to comment when contacted by the BBC, although both Palace and Moody have denied the claims.
The Premier League has confirmed it has received the complaint from Cardiff and is assessing the evidence to see if there is a case to answer.
If Cardiff's complaint is upheld, this would effectively mean a three-point deduction for Palace that, despite their 3-2 win at Everton on Wednesday, could have implications, not only for the south London club, but for many other teams fighting against relegation.
Palace are 11th in the table, while Cardiff are 19th, three points from safety with four games of the season remaining.