Ole Gunnar Solskjaer backs Aron Gunnarsson over Cardiff City 'leak'
Last updated on .From the section Football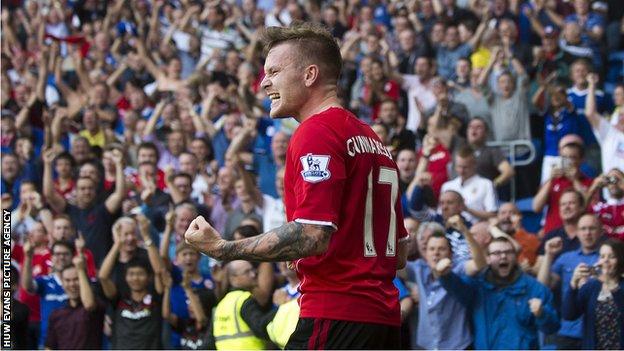 Cardiff City manager Ole Gunnar Solskjaer defended Aron Gunnarsson after the midfielder was linked with an alleged leak of team details.
The Premier League will investigate the allegations, having received a formal complaint from Cardiff.
"We will defend his [Gunnarsson's] name and reputation to the edge of the cliff, definitely," Solskjaer said.
"He will be involved in the squad, definitely [on Saturday at home to Stoke City]. He is there training. He will be involved unless he gets an injury."
Cardiff have instigated disciplinary action against two employees, but in a press conference ahead of their 1-0 win at Southampton last week Solskjaer had categorically denied suggestions that a player had been involved.
Gunnarsson, 24, who has won 42 caps for Iceland and has strongly denied any involvement, was also backed by team-mate David Marshall, the Scotland goalkeeper who has been one of Cardiff's stand-out performers this season.
"The one thing I will say is that Aron would never give somebody, or the opposition manager or anybody, our team line-up to try and help them and go against us," Marshall said.
"He is one of the hardest-working and most honest people I have come across in the game, so I don't know how it has come across that Aron's given it, but I would put my life on it that Aron has not been involved in it.
"In terms of the leak, I think if people are doing that, nine out of 11 you could probably guess every Saturday who is going to be starting the game, but the point is if people within the club are trying to help other teams go against us it's not good enough.
"If the club do have proof of that, it's not a problem, they can follow that up. The club has got every right to pursue it if they feel they have got a case.
"With Aron's situation the last couple of days it has probably brought the team closer."
Solskjaer reiterated that with the complaint filed with the Premier League he considers the matter closed for the moment, and is concentrating on Saturday's home game against Stoke City as Cardiff continue their fight against relegation.
"We've had issues internally. We've dealt with it and we've sent a report to the Premier League, and that is the end of the matter for us," the Norwegian added.
"We trust the Premier League to deal with whatever is required.
"I did have a good 'guesstimate' of Palace's team. That's just football, you do your ground work, you have got your scouts, you analyse them, but we do it the right way.
"The players have dealt with it fantastically. We've had a couple of chats and that is the end of the matter.
"But we are in a fight to survive and there is always going to be some noise on and off the pitch."