Manchester United v Everton: Moyes set for chilly welcome

By Phil McNulty
Chief football writer
Last updated on .From the section Football273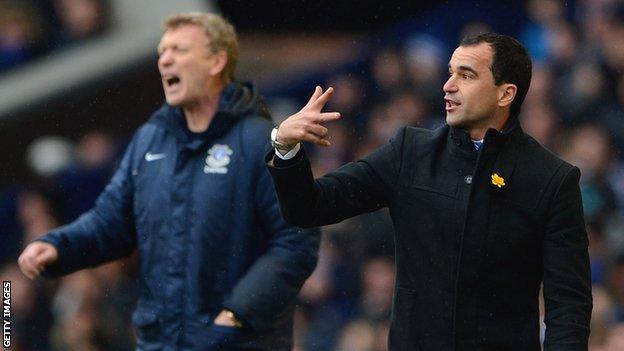 When David Moyes last walked out at Goodison Park, it was to a hero's reception before a fond farewell after 11 years as Everton manager.
It is unlikely the same affection and respect will be in the air on Sunday when he comes back for the first time and takes his place in the visiting manager's technical area.
Times have changed - and not for the better when it comes to the relationship between Everton fans and their former manager.
Under his successor Roberto Martinez, Everton are chasing a Champions League place and stand nine points clear of United with 66 points, more than Moyes ever achieved, despite taking the team into the qualifying stage of Europe's elite competition in 2005.
And, to make life even more uncomfortable for Moyes on Sunday, events last summer have broken any remaining bond with many Everton fans beyond repair after a ham-fisted attempt at a double deal for Marouane Fellaini and Leighton Baines.
The evidence was presented at Old Trafford in December when Everton won at United, a feat beyond Moyes in his time, and he appeared taken aback at the sheer venom directed at him from the visiting fans throughout the game.
So what will Sunday bring for Martinez and Moyes and what are the key factors that have shaped their seasons to this point?
Inheritance
When Moyes took over at Manchester United they were champions for the 20th time, but it was widely accepted the squad needed an overhaul and was imbalanced, with too many players at either end of the age scale.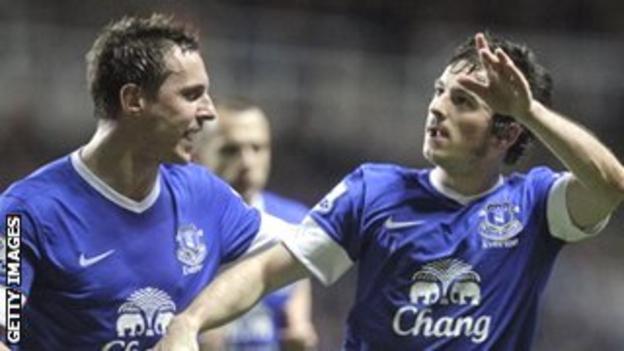 A botched summer of transfer dealings, more of which later, cast a shadow over Manchester United's season as struggles at Old Trafford and a relatively tame Champions League campaign only underlined the urgency of the work that needed to be done.
Martinez took over a squad that was built in the image and likeness of its previous manager. Organised, hard-working, fiercely disciplined - but with just enough flourishes of class to ensure they finished an impressive sixth last season.
The Catalan, rather in the manner of Arsene Wenger when he succeeded Bruce Rioch at Arsenal, quickly identified he had the foundations of a solid defence in Phil Jagielka, Sylvain Distin, Seamus Coleman and Baines.
He declined to fix something that was not broken and made this his starting point to add greater style and his own identity to Everton.
Moyes's Everton career has been subjected to some hefty rewriting this season but even his critics (and there were plenty at Goodison Park despite his achievements) must credit him with giving Martinez an ideal platform to build from.
Transfer business
Manchester United's awful summer in the transfer market which was characterised by wild goose chases, in the manner of the pursuit of Barcelona's Cesc Fabregas, and missed opportunities, was summed up by the acrimony created by Moyes's attempts to sign Baines and Fellaini.
Everton were outraged by Moyes's "derisory and insulting" £28m offer for the pair - a folly further exposed by United paying £27.5m for Fellaini alone moments before the transfer window shut.
And to reduce Moyes's stock even further, he caused great consternation by suggesting Everton should "do what was right for the players" - hinting they were almost holding the pair back by snubbing United.
It led to accusations of hypocrisy being levelled against Moyes in the light his long-held fury against Manchester City for the manner in which they pursued and signed his then Everton defender Joleon Lescott.
This was the real tipping point in Moyes's relationship with Everton supporters. Those who were not outraged felt, at best, patronised by a remark that would have infuriated him had he still held his previous post.
Ironically, Moyes and United gave Everton's own transfer dealings a significant helping hand by paying £27.5m for Fellaini, £4m in excess of the figure the Scot knew they could have paid had they activated an earlier clause in his contract before it expired.
Martinez, waiting to do his transfer business as the minutes ticked away, used the money wisely to conclude a loan deal for Chelsea's Romelu Lukaku, bring Gareth Barry on loan from Manchester City and pay £13.5m for Wigan Athletic's James McCarthy.
It was a game-changer for Everton. All three have been outstanding for Everton this season and Martinez still has some of the Fellaini money in the bank.
Just to add another twist, Moyes's final Everton signing has provided another Goodison Park gem.
John Stones was on his way to sign for Martinez at Wigan when Moyes stepped in, and has developed to such an extent that an England cap seems certain.
Tactics
Mention Everton under Moyes and they were damned with faint praise. "Workmanlike" was a word often used.
This is also unfair in that Everton, especially at the start of last season, played some very exciting football with the Scot in charge.
At this time it is worth remembering the mess Moyes inherited at Goodison Park in 2002 and how he built his legacy over time without being able to operate at the top end of the market.
There is no escaping, however, the plain truth that there has been both revolution and evolution in Everton's playing style under Martinez.
The passing style he insists on drew concerns early on when Everton appeared more intent on passing themselves into submission rather than the opposition.
The menace of Lukaku and the intelligence of Barry and McCarthy changed all that.
There is now a purpose and the likes of Belgium winger Kevin Mirallas and the raw but extravagantly gifted Spanish Under-21 attacker Gerard Deulofeu add the X-Factor of unpredictability.
And while passing statistics can be deceptive, there is no doubt they reflect the new emphasis under Martinez.
Gareth Barry is Everton's top passer this season with 1,966 while Michael Carrick tops the charts for Manchester United with 1,645.
Taken between the two teams, Everton's James McCarthy, Sylvain Distin, Leighton Baines and Phil Jagielka head the passing rankings before Wayne Rooney reappears for Manchester United.
Everton's average possession after 34 games is 55.90% compared to 52.47% after 38 last season while United's is 54.97% against 56.30% last season.
Relationship with supporters
Martinez was greeted with an element of suspicion by Everton's supporters after relegation with Wigan Athletic - but his FA Cup Final win against Manchester City made him a much easier sell for chairman Bill Kenwright.
Since his appointment he has charmed Everton's support with his willingness to embrace the club's history, a seemingly never-ending supply of positivity and his determination to play in a stylish manner.
Former Everton title-winner Peter Reid declared the recent 3-0 home win over Arsenal as the best since his mid-80s glory era, saying: "They were fantastic. They've had lot of praise since then but it was all merited. They were outstanding all over the pitch."
The home defeat by Crystal Palace has removed some of the gloss of that win but Martinez still believes Everton are right in the hunt for the top four.
At Everton, Moyes was treated with great respect and admiration but his relationship with the supporters was not the love affair many may have thought.
He was often criticised for what was perceived as a natural caution, an accusation levelled at him in particular after the loss of big games such as the 2009 FA Cup Final against Chelsea and a desperately timid defeat by Liverpool in the FA Cup semi-final at Wembley in 2012.
He has faced similar criticism at United after the all-out attack and years of success under Ferguson - but those of us who have attended Old Trafford regularly will have seen large swathes of support for Moyes.
The mood threatened to turn angry after the 3-0 home loss to Manchester City but in general the mood inside Old Trafford has been one of support and understanding.
A stunt involving a light aircraft flying over the stadium carrying an anti-Moyes banner during the home win against Aston Villa was not only treated with contempt but arguably worked in his favour.
How long this credit stays in the bank remains to be seen. The real indicator to Moyes's future will come at the end of the season and how quickly United's board back him in the transfer market. Will he still be there next season?
The future
Whatever the conclusion to Everton's campaign, Martinez has had an outstanding first season and has won the hearts of the club's support with his personality and approach.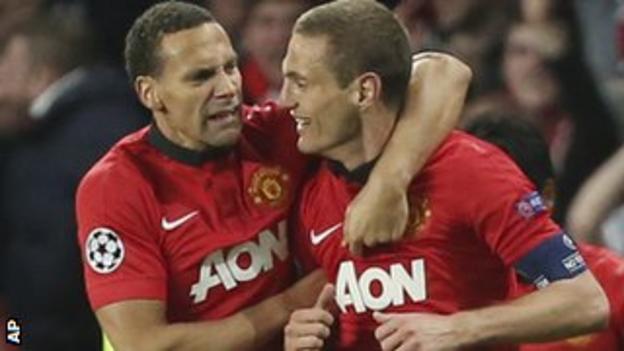 There is uncertainty ahead though. Everton have Lukaku, Barry and Deulofeu coming to the end of loan deals. The first two, in particular, have been central to what they have achieved. How will he tackle that problem?
Moyes, should he win the backing of the Glazers, faces an almost root and branch reconstruction this summer.
With Nemanja Vidic leaving, Rio Ferdinand almost certainly on the way out and Patrice Evra another with an uncertain future, he must put an entirely new defence in place.
Moyes also needs to find a world-class midfielder and how will £37.7m Juan Mata, for all his quality, fit in to a system that needs to accommodate Wayne Rooney, Robin van Persie, Adnan Januzaj and perhaps Shinji Kagawa?
Van Persie may be another dilemma altogether. Will he even be around next season?
For now, Moyes must first negotiate what is likely to be a frosty welcome at Goodison Park on Sunday.