World Cup watch: Lionel Messi, Radamel Falcao & Carlos Tevez
Last updated on .From the section 2014 Fifa World Cup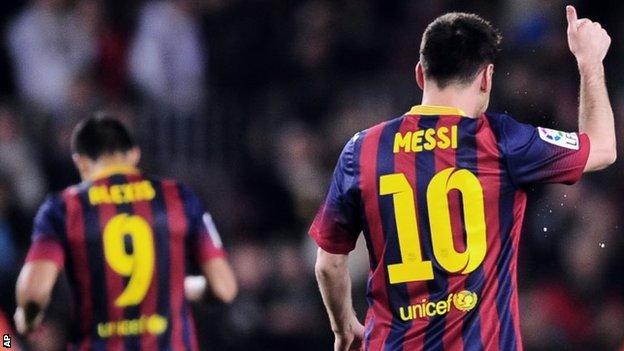 The World Cup is only 52 days away, with the opening match between host nation Brazil and Croatia taking place in Sao Paulo on 12 June.
BBC Sport, with the help of European football expert Andy Brassell, is taking a weekly look at happenings from across the world of football and what impact they could have on the tournament in the summer.
Messi goal fails to convince critics
Andy Brassell: This week has seen concern grow over Lionel Messi's form ahead of the World Cup which many fans hope will be the crowning moment of his career.
He partially answered his critics in Sunday night's comeback win over Athletic Bilbao - his free-kick winner was his 26th goal in 25 La Liga starts - but the sense in Spain is growing that he has failed to drag Barca out of their struggles on the biggest occasions.
So soon after their Champions League exit to Atletico Madrid, the Copa del Rey final loss to Real Madrid on Wednesday again brought into question Messi's current ability to inspire - especially when contrasted with Gareth Bale's decisive contribution.
The loss to Carlo Ancelotti's Real was Barca's third in a row, during a period in which Gerardo Martino's side saw two possible trophies slip away.
Over 50% of readers surveyed in Spanish newspaper Marca this week (with nearly 150,000 respondents) judged the 26-year-old Argentine's season as either "bad" or "very bad", with less than 13% deeming his campaign as "good" or "very good".
With news from back home that key midfielder Fernando Gago is in a race to be fit for Brazil, one wonders whether Messi faces an uncertain future at international, as well as club level.
Nainggolan making surge for Belgium squad

Andy Brassell: It was a good weekend for Belgium's Radja Nainggolan, whose winner for Roma at Fiorentina on Saturday guaranteed them entry to the Champions League group stage next season.
The victory means Roma are 14 points clear of third-placed Napoli with four games to go. Nainggolan could have joined Rafa Benitez's team in January but opted for the capital club instead.
The 25-year-old midfielder is in the form of his life for Rudi Garcia's ebullient side since his recent move from Cagliari. He was also a scorer in Belgium's 2-2 draw with Ivory Coast in Brussels in March, on the occasion of only his fifth senior cap.
Having told newspaper Gazet van Antwerpen before leaving Cagliari that "I deserve my place in the 23," Nainggolan might even hope for better given current form.
While he has been driving Roma on, his competitors have been floundering. Marouane Fellaini's struggles at Manchester United are well documented, while Steven Defour has had an uneven season at Porto. An energetic box-to-box midfielder, Nainggolan could be one of the surprise stars of the summer.
Injured Neymar certain of World Cup fitness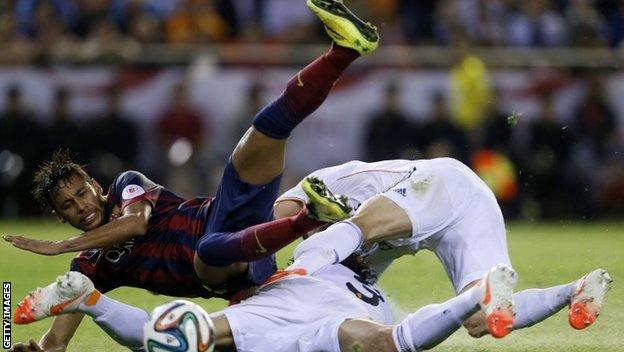 Brazil striker Neymar expects to be fit the World Cup despite being ruled out for four weeks with a foot injury.
The 22-year-old Barcelona star was injured in last week's Spanish Cup final defeat by Real Madrid and has a build-up of liquid in his fourth metatarsal.
Best-case scenario sees him return for Barcelona's final game of the season, at home to Atletico Madrid on Sunday, 18 May.
Neymar told Globo TV: "I always had a bit of fear that the injury would force me to stay out... of the World Cup. But within the next three weeks I'll be back and I hope to play Barcelona's last game."
His club manager, Tata Martino, is less confident of him getting a game in before the season ends.
"It'll be difficult to see him getting a game," Martino said. "It'll take about four weeks for him to come back and that's pretty much the end of the season. I'm not optimistic that he'll play again this season for Barcelona."
Brazil face Panama 16 days after Barca's season ends in one of two World Cup warm-up games. Their competition opener is on 12 June against Croatia.
Upwardly mobile Immobile increases World Cup chances

Torino striker Ciro Immobile boosted his chances of playing in the World Cup with Italy as he scored his 20th Serie A goal of the season.
The 24-year-old, who won his only cap against Spain last month, scored what looked like a last-minute winner against Lazio, who scored in injury-time to rescue a 3-3 draw on Saturday.
Immobile, who is co-owned by Juventus, is now the top scorer in Italy, two ahead of Luca Toni and Carlos Tevez.
Another Italian striker to reach a personal landmark was Mario Balotelli. His goal in Saturday's 3-0 win over Livorno was his 14th league goal of the season. He had previously only reached 13 in a season.
Nigeria sticking with Keshi

Nigeria coach Stephen Keshi will definitely be in the charge for the World Cup, according to their football federation president Aminu Maigari.
The former Super Eagles defender does not have a good relationship with the organisation despite leading them to the Africa Cup of Nations last year.
"There is absolutely no problem between the federation and the coach as we prepare for a big tournament as important as the World Cup," Maigari told BBC Sport.
"We should also remind people that the decision to make Keshi the highest paid coach in the history of Nigeria was taken because we believe in him."
Falcao 'will be at World Cup but not 100%'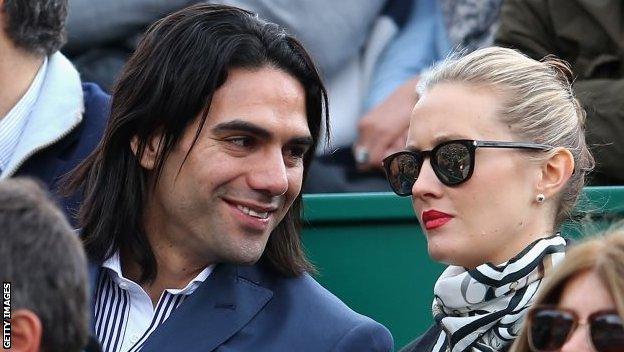 Colombia striker Radamel Falcao will go to the World Cup but will not be at full fitness, says his surgeon.
The 28-year-old Monaco player has been out since suffering anterior cruciate ligament damage back in January against minnows Chasselay Monts d'or Azergues in the French Cup.
It had initially been thought he had no chance of making the World Cup.
But Jose Carlos Noronha told Lusa: "At the highest level, at the beginning of the competition, Falcao may not be 100%. I think he will go to the World Cup."
Falcao scored nine goals in World Cup qualifying for Colombia, who are in Group C with Greece, Ivory Coast and Japan.
Ronaldo dreaming of international glory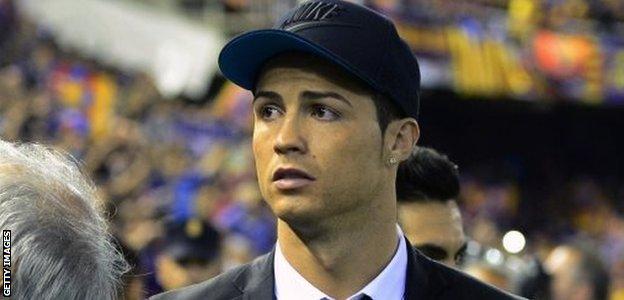 Cristiano Ronaldo thinks Portugal can win the World Cup this summer.
The 29-year-old World Player of the Year has won three Premier League titles, a Champions League and one La Liga crown but has never won a major international trophy.
He played in the Euro 2004 final defeat by Greece but that was before he was established as one of the world's best players.
Ronaldo is currently out with a knee injury but is not a doubt for the World Cup.
"That would crown a great career. I know it will be difficult, but everything is possible with work," he told French football magazine So Foot Junior.
Disney World, not World Cup for Tevez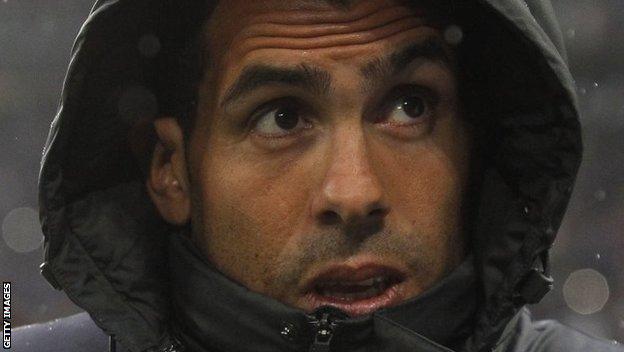 Argentina striker Carlos Tevez says he is not even considering the idea of going to the World Cup - and has already booked tickets for Disney World.
The 30-year-old striker, now at Juventus, has not played for his country since missing a crucial penalty against Uruguay in the 2011 Copa America quarter-finals.
"I don't think I will be with my national team at the World Cup,' he told Argentine newspaper Cronica.
"I've already bought tickets to go with my wife and my three children to Disney World. They deserve this trip and I have been very clear in my mind where my place is."