Do Hibernian have the stomach for a Scottish Premiership fight?

By Richard Wilson
BBC Scotland
Last updated on .From the section Scottish Premiership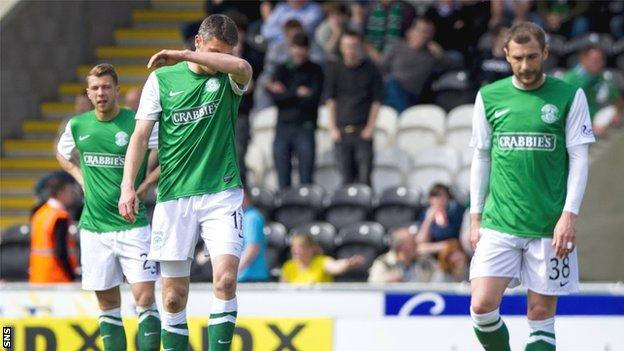 There is no room left for error. Five teams are struggling to avoid being drawn into the play-offs by finishing second bottom of the Premiership, and they are only separated by three points.
With only four rounds of fixtures left, the anxieties are likely to be prolonged right to the end of the season, but a narrative is already evident.
Hibernian are the team that has been dragged into the midst of this battle of nerves. When Terry Butcher replaced Pat Fenlon last November, Hibs were seventh in the league, six points clear of Kilmarnock who were second bottom.
By the turn of the year, they were 12 points clear of the play-off place, but they cannot arrest their recent slump in form.
It is now nine games since they last registered victory, and that was their sole win in a run of 15 matches. Butcher was expected to turn the fortunes of the team around when he left Inverness Caledonian Thistle, but he has now been dragged into the mood of despondency that has become entrenched at Easter Road.
Hibs are living on their nerves, and the team seems to lack the confidence or the wherewithal to overcome this slump. They look like a side condemned, and they are running out of time to emerge from this stuttering run of form.
They ought to have approached their trip to St Mirren Park with the boldness and determination to take command of their fate. Instead they capitulated, conceding a goal in just 12 seconds and another before a quarter of an hour had even passed.
If Jim Goodwin had not been sent off, St Mirren looked as though they might rack up even more goals, but the 2-0 victory was testament to the conviction they carried into the game.
Butcher was lost to his exasperation and anger on the touchline. He could not raise enough fight in his players, and there was a wry shake of the head when Michael Nelson, a tall, strong centre-back, was contemptuously brushed aside by the St Mirren substitute Josh Magennis.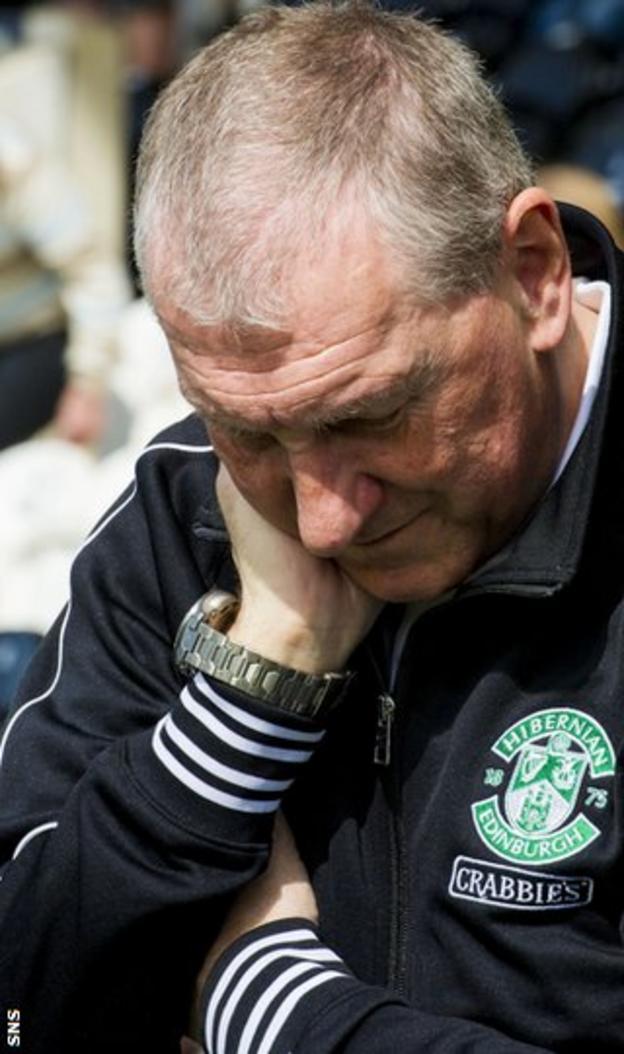 The belief was that Butcher would bring some stability to Hibs, before rebuilding the side in the summer. Instead, he finds himself caught in a downward spiral with little option but to persevere with a group of players who cannot be gripped by a sense of urgency.
It seemed indicative of the lack of purpose at the club that the most assured player in the defeat to St Mirren was Kevin Thomson, who had previously been told to find another team. This is, essentially, still Fenlon's squad, but Butcher has been unable to galvanise them and his record is comparable to that of his predecessor.
There can still be developments, and other teams around Hibs in the bottom six can often seem forlorn. Yet it's Butcher's side that cannot even occasionally find the means to register a victory, or even allow room for some hope to settle.
It will gall their fans that the next assignment is the visit of Hearts to Easter Road, since it was only three weeks ago that Hibs fans - in a gleeful mood - thought they would secure the win at Tynecastle that would confirm Hearts' relegation.
Instead it was Gary Locke's team that prevailed on that occasion, and now the roles are reversed, since a Hearts win would leave Hibs in danger of being obliged to contest the play-off, and facing the threat of relegation to the Championship.
Butcher cut a disconsolate figure after the defeat to St Mirren, and this fraught run of form has come at the worst possible time of the season.
Even when St Mirren were reduced to 10 men, Hibs did not have the quality or the dynamism to take advantage. That was in direct contrast to the confident assurance of Kenny McLean, who scored St Mirren's opening goal and created Paul McGowan's second.
Partick Thistle, too, found the means to defeat Kilmarnock and suddenly the gap between the five teams above Hearts was reduced.
With Locke's side defeating Ross County at Tynecastle, there is only a mood of anxiety and alarm left at Easter Road. There is quality in the team - Sam Stanton and Alex Harris are impressive young players - but this will come down to nerve and commitment as much as ability.
Ross County and Kilmarnock could yet suffer a further run of misfortune, but it is Hibs who seem most clearly on the slide.
It will take a momentous victory to alter that despondency. A win over Hearts would provide that impetus, but a victory would have the opposite effect and potentially leave Hibs devastated. There is, now, a rising tension in the bottom half of the Premiership, and Hibs have still to visit Ross County in a midweek fixture before the end of the season.
Butcher left St Mirren Park clutching a DVD of his team's defeat. It will make for painful viewing, but he has to find a solution to his team's problems.