Scottish FA agree to compromise over SPFL resolutions
Last updated on .From the section Football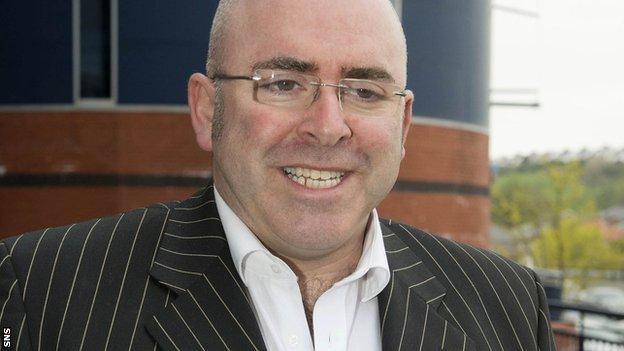 The Scottish FA have partly agreed to resolutions proposed by the Scottish Professional Football League over the structure of the game.
The amount of Professional Game Board members on the SFA board can increase from one to two.
And prospective presidents/vice-presidents will only need to have served one year within a recognised football body, rather than four.
Resolutions over new members and budget and policy setting will be withdrawn.
In a joint statement, the boards of the SFA and SPFL said a new resolution will be submitted which "will deal with the appointment of new full members such that they will need to be licensed clubs".
The PGB will have an involvement in the budget and policy setting processes but the SFA will retain "overall responsibility for the financial budget relating to performance and football development".
SFA chief executive Stewart Regan welcomed the outcome of Tuesday's joint board meeting, saying: "It is important that we continue to work together with the SPFL, as with all other football bodies, to ensure that we take the national game forward both at senior professional level and in grassroots."
And SPFL counterpart Neil Doncaster added: "The SPFL aims to work in partnership with the Scottish FA to ensure the senior professional game in Scotland is as vibrant as possible.
"The agreements reached at board level today demonstrate that relationship and will give the professional game the increased influence it has been seeking."
Alloa Athletic chairman Mike Mulraney had proposed the resolutions but played down suggestions that the SPFL's intention was to seize power.
And, on Monday, Mulraney said he expected some sort of compromise to be found.
"We don't think it is particularly revolutionary - it is just appropriate change," Mulraney had commented.
"We just want to be able to select the best people to be on the board and we want a little bit more representation on that board.
"Let's not close all the doors because people are frightened or are protecting their fiefdoms."