Man Utd: Ed Woodward, David Moyes & the doomed presentation
Last updated on .From the section Football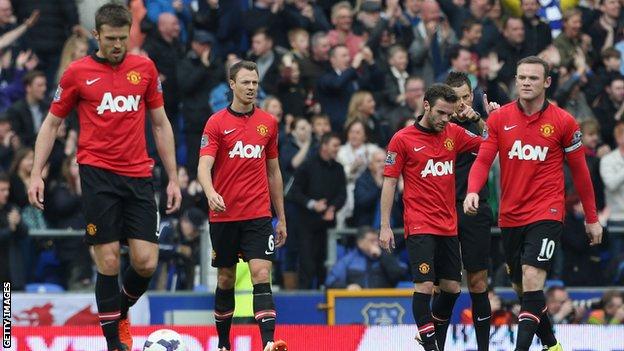 A turbulent three days for Manchester United has ended with them fending off allegations of unprofessionalism from the League Managers' Association (LMA).
More significantly, they have a new manager to find following the sacking of David Moyes and face challenges that would have been unimaginable as recently as 18 months ago.
BBC Sport assesses the United crisis and examines how the Premier League champions intend to get out of it.
Limiting the damage
United are certain they made the right decision to get rid of Moyes. They cite poor results, negative tactics, reduced expectation and lack of authority in the dressing room as compelling reasons why he had to go.
Yet it is also acknowledged throughout Old Trafford that the 50-year-old suffered an unnecessary loss of face in the manner of his dismissal.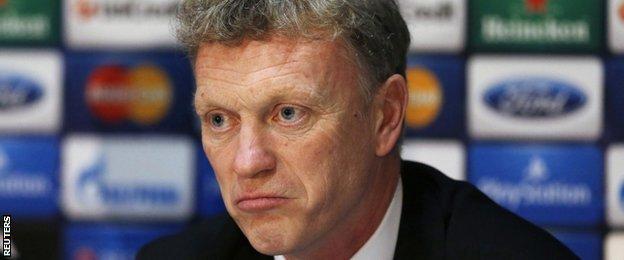 Few could fail to be impressed at the dignified manner in which Moyes conducted himself throughout a tortuous 10-month reign.
He insisted on fronting a Capital One Cup pre-match news conference immediately after a shattering Premier League defeat at Manchester City in September when he had no need.
He also chose to walk out alone at Old Trafford ahead of March's encounter with Aston Villa, knowing a plane was about to fly overhead trailing a banner demanding his removal.
United accept he did not deserve to to be dealt with in such a shoddy way after showing such dignity.
According to one source, Moyes is "livid" with his treatment. He opted not to touch on the subject in a statement released on Wednesday, but LMA chief executive Richard Bevan did, branding United's conduct "unprofessional". That in turn brought a swift rebuttal from United.
When reports first emerged on Monday that Moyes was about to be sacked, United insist a final decision had yet to be taken about his future and would not be until discussions had been held with the Florida-based Glazer family which owns the club.
But then, fearing the situation might spiral out of their control, the club brought forward those talks.
Whatever the truth, more than an hour passed following those initial media reports before any member of the United staff contacted Moyes. The first of two calls from Woodward did not come until after that.
As for the source of the leak to the media, a search was still taking place on Wednesday, although it is hard to see that reaching a positive conclusion.
Not that any investigation will help a bruised Moyes, who is likely to take a short break to get out of the spotlight.
Unlike Sir Alex Ferguson and David Gill, it does not appear Moyes had a particularly close relationship with Woodward and direct telephone calls were rare.
That compensation is still to be agreed also hints at more than just geographical distance between Moyes and London-based Woodward.
BBC Sport also understands Moyes expected far better treatment from a club of United's standing, given it is now accepted that they had reservations about his management back in February but failed to raise their concerns with him.
Indeed, on Monday morning, Moyes was putting together the first stages of a presentation intended for the Glazer family at the season's end.
Searching for a new manager
Tentative discussions have already taken place with agents in recent weeks, but Woodward was not prepared to countenance searching for a successor until there was an actual vacancy to fill.
Unlike 12 months ago, when the club accepted Ferguson's recommendation that Moyes was the man to replace him, the Scot will be only part of the process this time. Also involved will be Sir Bobby Charlton, Woodward and former chief executive David Gill, with the Glazer family providing their input, too.
BBC Sport understands only a limited number of candidates will be considered and, having learned their lesson with Moyes, all will be experienced at the very highest level.
That rules out Ryan Giggs, who will take charge for the final four matches of the season, with Phil Neville, Nicky Butt and Paul Scholes helping the 40-year-old.
Also crossed off the list are Pep Guardiola and Jurgen Klopp, whom United deem unattainable because of their commitment to Bayern Munich and Borussia Dortmund respectively.
Jose Mourinho was available 12 months ago and United ignored him, so an audacious move for the Chelsea boss seems unlikely. Laurent Blanc has the United connection, having spent two seasons at Old Trafford at the end of his playing career, but the two most obvious candidates are Louis van Gaal and Carlo Ancelotti.
There are issues around both, though.
Ancelotti has more than two years remaining on his contract at Real Madrid, where he is currently battling for the Spanish title and the Champions League.
His position may become more uncertain should he fail to secure the trophies, though, and United may be able to argue that the 54-year-old former AC Milan and Chelsea coach would have greater job security at Old Trafford, despite the fact that Moyes lasted only 10 months.
Van Gaal, meanwhile, has a World Cup campaign to prepare for with the Netherlands and therefore would not be able to take charge until the middle of July. However, the 62-year-old has stated his desire to work in England and, after two stints at Ajax and Barcelona, plus one with Bayern Munich, he understands the mentality of working at a big club.
Targeting new players
No matter how the process works out, United will not allow themselves to be caught out this summer as they were last. "The club is the most important thing," a source told BBC Sport on Wednesday.
To all intents and purposes that means, if necessary, United would be prepared to sign players even if they had no manager in place.
The reality driving this position is the knowledge that United are badly in need of strengthening; something which seemed so obvious throughout Moyes's tenure.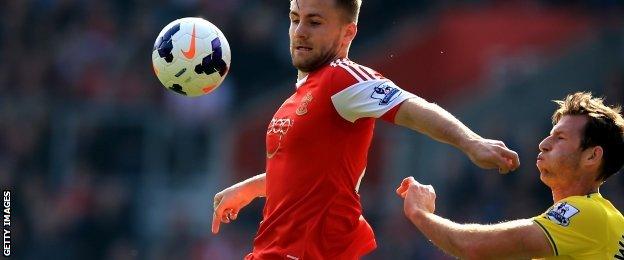 Twelve months ago, they lined up deals before the Scot's arrival, only for him to then back away because he wanted to be certain the players were what he wanted. Thiago Alcantara, who signed for Bayern Munich instead, was one such missed opportunity. There were others, too.
Moyes then took too long to identify alternatives, wasted too much time on others, such as Cesc Fabregas, and ended up buying Marouane Fellaini on deadline day for £27.5m -£4m more than Everton had been quoting just weeks earlier.
"We have a very experienced scouting team," said the United source. "We have a number of targets and are going to press ahead with them.
"Twelve months ago, maybe we allowed too much time. Also, the previous manager was maybe not used to shopping in that market. We anticipate the new person will be.
"But the health of the club is more important than anything. If decisions have to be taken around that, they will be."
Bayern Munich's Toni Kroos has long been tipped as a potential United signing, as has Southampton youngster Luke Shaw. But it is only when they actually become involved in the negotiation process that the club will find out whether the impending absence of Champions League football will have a negative effect.
Repairing the brand
Having spent so many years portraying themselves as being above the sack-and-spend culture that has taken hold of the modern-day game, their actions in dispensing with Moyes after less than a season - the third shortest tenure in their history - is a bit of an embarrassment.
The manner in which the news was leaked is in sharp contrast to the culture of secrecy that characterised the Ferguson era, as was the sniping that went on behind the back of Moyes, no matter how much United tried to pretend it did not exist.
There has been no short-term effect on the club's share price, with the gains made on the New York Stock Exchange on Tuesday following the departure of Moyes lost in early trading on Wednesday. However, there would be an impact if their exile from the Champions League extended beyond a single season.
With a new kit deal still to be negotiated from 2015 when Nike's contract expires, United will need to demonstrate they are on an upward curve.
Woodward must lead this revival. Trusted implicitly by the Glazer family for the way he assisted their controversial takeover in 2005, he was appointed as Gill's successor last summer, retaining the title of executive vice-chairman rather than assume the position as chief executive.
However, he is blamed by many for last summer's failed transfer dealings, even if the precise extent of his responsibility is open to debate.
Mistakes have been made, though. For a start, leaving United's pre-season tour of Australia and the Far East to attend to "urgent transfer business" only to fail to bring in new faces was an error. There have also been moments of naivety, such as taking pictures on his mobile phone during the shambolic defeat by Olympiakos in February.
Gill would not have been caught out in similar fashion. That said, Woodward has not had a long-standing manager to perhaps guide him away from such self-inflicted wounds.
Furthermore, unlike Moyes, Woodward has the chance to make amends.