North Ferriby manager relying on Gainsborough 'professionalism'
Last updated on .From the section National League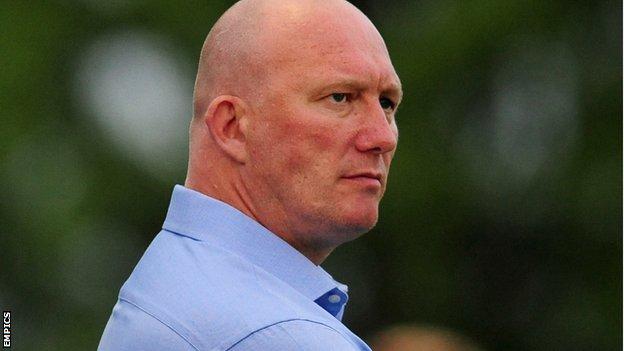 North Ferriby manager Billy Heath has appealed to Gainsborough Trinity to act "professionally" in their Conference North decider against AFC Telford.
"It depends how professionally Gainsborough go into the game more than anything," Heath said.
Trinity boss Steve Housham dismissed the comment as "sour grapes now they've probably lost the league".
Talking to BBC Radio Lincolnshire, Housham continued: "I find it comical.
"All of a sudden it comes down to Gainsborough versus Telford for Ferriby to win the league, but they could have won league on Saturday if they went to Boston and won that game.
"It's their fault if they lose the league, it was in their hands and had nothing to do with us."
North Ferriby need to beat Brackley Town at home and hope Telford drop points against Gainsborough to win automatic promotion to the Conference Premier.
While Heath's side beat Trinity 4-1 last month, he believes a repeat performance by the Lincolnshire side will put the league leaders under pressure in the must-win game.
"If they give the same commitment that they gave when they played us, then they could easily beat Telford. Whether they are going to give that commitment I don't know," said Heath.
Housham said questioning Gainsborough's commitment was "embarrassing".
"We go out every game to try to win," he added.
"We have gone into every game this season, not just Ferriby, and have competed as best we can - given it our all. That is what I demand.
"Unfortunately we haven't got the quality anymore, that is what has killed us in games.
"We have the workrate which will never be questioned. But other teams, that is why they are up there, have that bit of quality that we haven't.
"If they [Telford] get crowned champions on the day, and beat us it won't be a gimme. We will go there not to do anyone else favours, it will be to do Gainsborough Trinity proud."