Rangers' finances are 'fragile' warns shareholder Sandy Easdale

By Alasdair Lamont
Senior football reporter, BBC Scotland
Last updated on .From the section Rangers
A major Rangers shareholder has told BBC Scotland that the financial situation at Ibrox is "fragile".
The club's recent accounts were signed off for the next 12 months on the basis of an uplift in season ticket sales, but Sandy Easdale said indications were that sales were "slow".
Ahead of the publication of the board's business review, he urged "loyal" fans to show their support to the club.
He also warned that Rangers would not survive a second administration.
Additionally, a senior source within Ibrox has described the League One champions as "being on a life-support machine".
Rangers Football Club plc entered administration in February 2012 and were subsequently liquidated. The club's assets were bought for £5.5m in June 2012 by a consortium led by former Sheffield United chief executive Charles Green.
Supporters have been urged not to buy season tickets by former Ibrox director Dave King, who is upset with the current board's running of the club.
He pledged to set up a bank account for fans to pay their renewal money into and act as custodian alongside former Rangers captain Richard Gough.
Easdale, speaking exclusively to BBC Scotland, admitted the situation is a precarious one.
"The club is at a crossroads at the moment and a fragile position," said the chairman of the club's football board.
"It can either go forward with a strategic view, with a long-term view, steady as she goes, or be pulled apart in other directions."
Easdale said he did not know the exact figures for season ticket renewals but admitted: "At this moment in time, ticket sales are slow."
Asked whether they would be sufficient to sustain Rangers in the short-term, the Greenock-based bus tycoon said: "We've got all the numbers. Me and chief executive Graham Wallace are confident and the board's quite confident that we'll meet those numbers."
But he added: "If you're loyal and you support the club, then come out and support the club.
"It doesn't matter who's running the club or who wants to run the club... the main thing is the loyal supporters need to come out, by a man, and stand by the club. That's what the club's been built on: loyalty."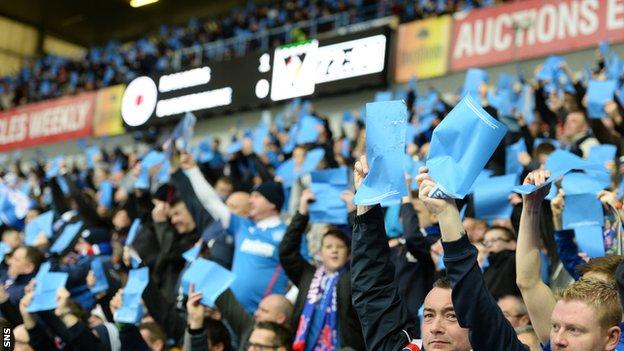 Asked whether poor season ticket sales could increase the risk of a second administration, Easdale replied: "That's a difficult question and it's a question that I hope I don't need to answer.
"In 140 years, the club's gone into administration once. I don't think it would survive a second one. So I would ask every loyal Rangers fan - and I pick my words correctly in saying 'loyal Rangers fan' - supports the club at this time and gives it a chance."
Easdale denied he was guilty of "emotional blackmail".
He added: "We don't want to go back to the dark days of administration. Everything's a possibility and we've got to look on a positive as a board. As a board, it's business as usual. We've got to keep going forward."
Ibrox chief executive Wallace is due to release the findings of his 120-day review into the club's accounts on Friday.
Easdale said he hoped it would answer any questions fans may have.
"It answers our questions and it's a clear indication where Graham and the board want to take the club," he added.
"We're kind of tied by the Stock Exchange in what we can say. I'd love to tell the fans all, but, the PLC board is tied by rules and regulations."
Responding to Easdale's comments, the Union of Fans - a collective of Ibrox supporters groups - said the club's precarious situation was not down to a lack of loyalty from fans.
"It is down to two years of mismanagement and the squandering of huge sums of money, which Mr Easdale has been a part of for the past seven months," added a Union of Fans statement.