Alex Pritchard: Tottenham forward improved by Swindon loan
Last updated on .From the section Football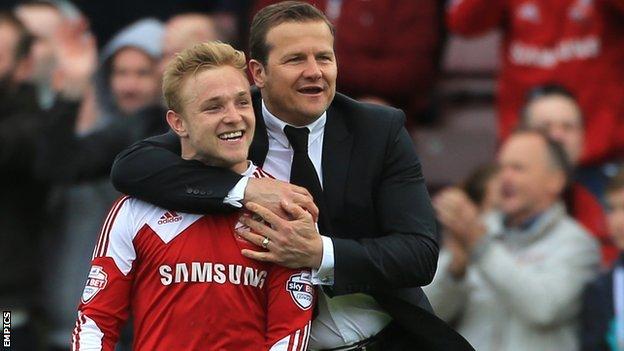 Tottenham's Alex Pritchard says his season-long loan at League One Swindon has been the best year of his career.
The forward has scored eight goals in 43 games this term and will make his final appearance of the campaign on Saturday against Notts County.
Pritchard turns 21 on 3 May and will be ineligible for Swindon's last game of the season against Rotherham, under the terms of his youth loan agreement.
"It's been my best year. I've grown up a lot," he told BBC Wiltshire.
When asked about what has changed, he added: "Getting fouled a lot, getting up and trying not to react, which I've done a few times this year, as well as not backchatting to the referees.
"I've stopped that. I got a couple of bad tackles at the weekend but didn't react to it."
Pritchard, one of three Tottenham players on loan at the County Ground, came through the Spurs youth team and has yet to make a senior appearance for the Premier League club.
His Football League debut came in a Championship game with Burnley last season during a loan spell at Peterborough United.
And Pritchard says his experience in a competitive League One environment has been a learning curve.
"In the reserve league, you're playing against the likes of Chelsea, where both teams play football," he said. "There's some tackles, but they're not strong.
"But then you come to League One and play against teams like Bradford, who just want to put it on the diagonal and it's a battle in the middle of the park.
"You've got to get used to it. It's totally different but I've loved every minute of it.
"People didn't think I'd be up for it or be able to deal with it. But I had it in my head that I had to deal with it."
Swindon manager Mark Cooper also remarked on the improvement he has seen in Pritchard since the start of the season.
"He's learnt how to live and how to act as a first-team professional," said Cooper, whose side sit four points off the play-offs.
"To come into an environment where three points mean everything, that's what it's about. At the start he found it difficult but he's got better and better.
"The biggest accolade you can get is the respect of your team-mates. When he goes away I know they'll say 'that Alex Pritchard was some player'."