Liverpool's Brendan Rodgers: Melwood's meticulous master

Last updated on .From the section Football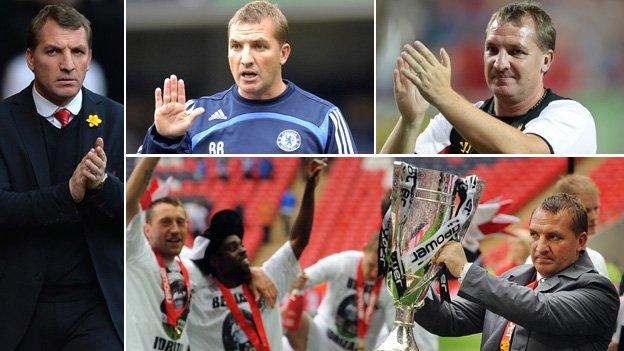 Brendan Rodgers has always talked a good game but this season he has finally been able to practise what he preached.
Long before he arrived at Anfield, the man from Carnlough on the Antrim coast of Northern Ireland spoke with a zeal that fans wanted to hear, journalists wanted to listen to and players wanted to respond to. But the question many asked was could he also walk the walk?
The answer has been both eloquent and emphatic. Liverpool are on the brink of winning a first league title since 1990, 12 months after they finished seventh in the Premier League. Club owners, Fenway Sports Group, had of Champions League qualification from next season.
To be welcoming his old mentor, Chelsea manager Jose Mourinho, to a city abuzz with title fever is an illustration of how quickly Rodgers's methods have taken root on and off the field.
Liverpool have scored 96 goals in 35 Premier League matches this season - already a club record - playing a brand of football that has captured the imagination by entertaining and, at times, enthralling the rest of the English game.
Anfield feels like a different ground this season and 15 wins from 17 home matches says it all.
But the subtle changes made by Rodgers may have gone unnoticed. The traditional red nets were restored, as was the oldest surviving 'This is Anfield' sign, which hung over the tunnel from 1974 to 1998, a period in which Liverpool won 25 major trophies, including four European Cups.
Likewise, the playing of 'You'll Never Walk Alone' is now delayed until the players and, more importantly, the opponents are on the field.
The supporters have noticed the difference. Rodgers was applauded at Anfield last season but never with the acclaim that has poured from the stands this term. Now his name is sung by the Kop, while scarves bearing his image are sold outside Anfield.

A look around Rodgers's office at Liverpool's Melwood training ground is revealing. On the walls are black and white images of past managerial masters: Bill Shankly at Anfield, one finger raised in celebration; Bob Paisley holding the league trophy aloft; Kenny Dalglish; Ronnie Moran - the men who set the tone for the club. They provided the benchmark to which all successors must aspire.
On his desk, colour-coded files hold the secrets behind the transformation - the tactical intelligence, hunting in packs, pace on the counter attack. Detail is everything and each training session is planned meticulously, with a four-day schedule designed to lead the players into game day.
He is now planning to re-lay the pitch at Anfield and those at Melwood to make them quicker, allowing Liverpool's passing even more zip.
Nothing is left to chance.
His relationship with psychiatrist Dr Steve Peters has been vital to the club's success. The pair have freed the players from the burden of pressure and expectation, focusing on what can be controlled and ignoring what can't.
If Liverpool prepare properly, the entire squad believes it can and will beat any opponent. The fearlessness that has been a feature of their play is no coincidence.
Rodgers himself has also changed. Mind games have gone - now his players do the talking. Where once "relentless possession" was his managerial pillar, Manchester City (3-2), Arsenal (5-1), Tottenham (4-0) and Everton (4-0) were torn apart by counter-attacking football coupled with a relentless and devastating pressing game.
Rodgers's players practice the "five-second rule", in which the team press their opponents immediately on losing possession for five seconds, before easing back. They then wait for precise triggers to press again. If a pass bounces off a foot, or an attacker needs to look down at the ball - as soon as their opponents' options are limited, Liverpool pounce.
Possession is no longer the be all and end all. Liverpool are arguably at their most dangerous when they don't have the ball.
As a man-manager, Rodgers is more flexible too. In the summer of 2012, he attempted to sell Jordan Henderson to Fulham having decided he might not develop into a top-class midfielder. Martin Skrtel and full-back Jon Flanagan were told they could look for other clubs. There was even a reluctance to sign Daniel Sturridge - who has 20 league goals this season - when he was offered to Rodgers 18 months ago.

Now, he has created an environment where, if players impress him enough, he is willing to change his mind.
The decision to switch Steven Gerrard to a deep-lying midfield role has been one of the success stories of the season. Rather than attempting to mould the players to his vision, he has looked at their strengths and picked his team to play to their strengths not his.
Rodgers stands on the brink of achieving something special as a manager but has been preparing for this moment over a 15-year-coaching career, updating and reworking the 180-page dossier that is his coaching bible.
It is the document that convinced Liverpool's principal owners, John W Henry and Tom Werner, to employ him in 2012. It explains how he wants to play, the way in which he wants to develop young talent and his blueprint for the attractive, attacking football that has taken the Premier League by storm.
Rodgers's experience as a youth-team coach at Chelsea remains crucial to the work he does on the training field, where he spends time coaching his players individually to make them technically better footballers.
Henderson, Flanagan, Raheem Sterling, Sturridge, Philippe Coutinho and Skrtel to name but a few have all improved - and there is a daily commitment to coaching the best out of individuals, plus the squad as a collective.

Rodgers has prided himself on his ability to learn from everyone he has worked with during his career. He tells friends that being employed by Mourinho was "like going to Harvard". But his ambition has been overriding. During his time at Chelsea he was writing to England's World Cup-winning rugby coach, Sir Clive Woodward, to ask about opportunities at Southampton.
He got his chance to manage first with Watford and then at Reading, only to be sacked. It was then, in December 2009, that Sir Alex Ferguson took time to dictate a letter to be sent to Rodgers, who had impressed the Manchester United manager during his time at Watford.
Ferguson told him to keep his chin up and that his time would come. The Scot was right. It was that same talent that persuaded Mourinho to promote Rodgers to reserve-team coach. The men remain close and will meet on the touchline at Anfield on Sunday as peers and equals.
Rodgers was influenced by Mourinho, as he was by Barcelona managers Pep Guardiola, Frank Rijkaard and, going further back, Johan Cruyff.
It remains to be seen if Rodgers can write himself into Anfield folklore by doing what only George Kay, Shankly, Paisley, Dalglish and Joe Fagan have done since the war - lead Liverpool to the league title.
The gospel according to Rodgers is building to a dramatic climax.