Premier League: Ten moments that helped shape the title race
Last updated on .From the section Football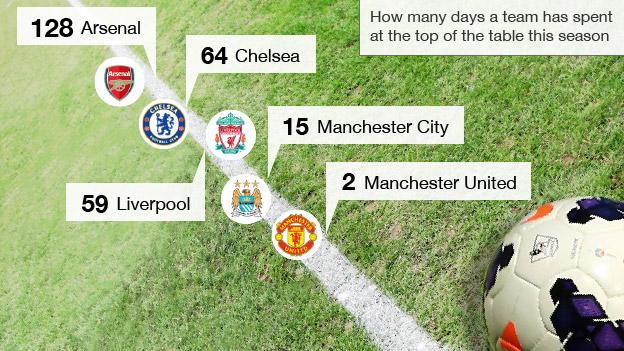 The leadership of the Premier League changed hands a record 25 times in one of the most compelling title races ever seen.
Manchester City spent just 15 days at the top of the table but were in first place when it counted after a 2-0 win against West Ham secured their second championship in three seasons.
Following months of countless twists and turns, BBC Sport highlights 10 games that helped shape an exhilarating campaign.
22 Sep, Man City 4-1 Man Utd. Warning signs
It may seem strange to relate now, but the start of the season had gone reasonably well for Manchester United under David Moyes. The defending champions won the Community Shield and even sat top of the table after their first league game - a 4-1 win at Swansea.
But the first real warning that United might not be capable of a serious title defence came in late September as they were resoundingly crushed 4-1 at rivals Manchester City, whose rampant display also sent out a strong message about their own title-winning credentials.
United, meanwhile, were to finish the season with just five points from a possible 24 from games against the top four sides.
What they said: "We did say it could be a difficult start. I wasn't convinced when the balls came out of the Premier League bag and I'm still not convinced." - David Moyes on a fixture list which pitted his team against Liverpool, Chelsea and Manchester City in their first five league matches of the season.
29 Sep, Sunderland 1-3 L'pool. Suarez returns
Top six prior to Suarez's first league game back

Position
Club
Played
Won
Drawn
Lost
Points

1

Arsenal

6

5

0

1

15

2

Tottenham

6

4

1

1

13

3

Chelsea

6

3

2

1

11

4

Southampton

6

3

2

1

11

5

Man City

6

3

1

2

10

6

Liverpool

5

3

1

1

10
Controversial he may be, but Luis Suarez has been a key cog in the Liverpool side since joining the Reds in 2011. The striker, banned for eight games later that year for racially abusing Manchester United's Patrice Evra, finished last season with 30 goals in all.
His last major indiscretion, biting Chelsea's Branislav Ivanovic in April last year, resulted in a 10-game ban that saw him miss the final four games of the 2012-13 campaign, as well as the first six matches of this season.

It might have been easier for Liverpool to wash their hands of him, particularly with Arsenal willing to part with £40m plus £1 in the summer to secure his services. Liverpool, though, refused to let him go and their resolve paid huge dividends.
His first league game back from the ban, against Sunderland at the end of September, saw him score twice. A further 17 goals in Liverpool's next 11 games - 10 of those coming in December alone - propelled Liverpool to the top of the table by Christmas.
What they said: "His performances have been sensational, not only in scoring goals but in his work-rate, his desire, setting up goals, team play - he has been absolutely magnificent." - BBC pundit Robbie Savage.
4 Dec, WBA 2-3 Man City. Away blues banished
Etihad Stadium was a near impenetrable fortress throughout this season, but it was City's away form that threatened to derail their title challenge.
They did not win on the road until 19 October, when they beat West Ham 3-2, but that proved to be something of a false dawn as the Blues managed just four points from a possible 18 in their first six away games
For a large chunk of that run, they were without influential skipper Vincent Kompany but he recovered from a thigh injury for a trip to The Hawthorns in early December, and City's away form dramatically improved following his return.
City won 3-2 and subsequently took 30 points from a possible 39 away from home. A 3-2 win at Everton in their final away game left them needing two home victories to become champions again.
26 Dec, West Ham 1-3 Arsenal. Ramsey injured
After a blistering start to the season that saw them win 11 of their first 14 Premier League games, Arsenal looked strong contenders to win a first title since 2004, spending the whole of November sitting at the top of the Premier League table.
They wobbled in early December, drawing with top-four rivals Everton and Chelsea and suffering a heavy 6-3 defeat by Manchester City, but returned to the top on Boxing Day with a 3-1 win at West Ham.

The victory came at a cost, though, as influential midfielder Aaron Ramsey - who had scored 13 goals in all competitions at that point, including eight in the league - suffered a thigh injury that kept him out for more than three months. During that time, the Gunners' title challenge faded, meaning they had to reassess their ambitions and settle for winning the battle for a top-four finish.
What they said: "Maybe we overplayed him a little bit. We should have rested him before he was injured." - Arsenal manager Arsene Wenger
Arsenal with and without Aaron Ramsey

With
Without

23

Games

15

16

Wins

8

3

Draws

4

4

Losses

3

47

Goals for

21

22

Goals against

19

69.56%

Win percentage

53.30%

2.2

Points per game

1.9

All stats courtesy of Opta
26 Dec, Man City 2-1 Liverpool. Fine margins
Manchester City scored four goals or more on 11 occasions in the league this season - including five against Tottenham and Fulham, six against Spurs and Arsenal and seven against Norwich. But just as important was their ability - as boss Manuel Pellegrini described it - to show "the other face" of their game.
The Christmas period perhaps displayed this facet best. After fending off a Fulham fightback to win 4-2 at Craven Cottage, on Boxing Day, they entertained an in-form Liverpool side who had won their previous four games.
Three points at Etihad Stadium would have sent Brendan Rodgers's side to the top and four clear of City, and Philippe Coutinho gave them a first-half lead. But City hit back with goals from Vincent Kompany and Alvaro Negredo to seal victory.
The win highlighted City's ability to grind out results at crucial times, as well as emphasising the quality of their attacking strength in depth, with Negredo stepping up in Sergio Aguero's absence through injury. For Liverpool, meanwhile, it showed the importance of fine margins. If an incorrect offside decision on Raheem Sterling had not been given with the game goalless, the result might have been different.
What they said: "I never go on about officials but I thought they were horrendous. I was surprised that we were playing in Manchester and we had a referee from Greater Manchester." - Reds boss Brendan Rodgers
Premier League top four after 26 December

Position
Club
Played
Won
Drawn
Lost
Points

1

Arsenal

18

12

3

3

39

2

Man City

18

12

2

4

38

3

Chelsea

18

11

4

3

37

4

Liverpool

18

11

3

4

36
12 Jan, Stoke 3-5 L'pool. Gerrard's reinvention
Having built a career around his marauding runs as an attack-minded midfielder, it is a little ironic that Rodgers's decision to curb Steven Gerrard's natural instincts was arguably one of his most vital.
Usually employed in an advanced role, Rodgers opted to name Gerrard as the deepest of a midfield three at Stoke City on 12 January. With more time and space on the ball, Gerrard revelled in the role to use his vision and range of passing to best effect.

Employing Gerrard in a "quarterback" role as a permanent anchor also provided Liverpool's vulnerable back four with some much-needed protection. The benefit was clear to see as they won 12 and drew two of their next 14 games before losing to Chelsea on 27 April.
What they said: "You look at the holding players in European football, players with the top teams, and I wouldn't swap him for any of them because of what he can give the club." - Reds boss Brendan Rodgers
8 Feb, L'pool 5-1 Arsenal. Gunners blitzed
Just two wins from eight games made February and March months to forget for Arsenal, but one result marked the beginning of the end of their title challenge and underlined Liverpool's own credentials as genuine contenders.
Wenger's side were the leaders, Rodgers's charges eight points behind in fourth. A win would keep Arsenal top of the standings, but those hopes were swept away as Liverpool tore them apart inside the first 20, mesmerising, minutes.
Martin Skrtel turned in two set-pieces and Raheem Sterling and Daniel Sturridge also hit the target for a rampant Reds side that ultimately won 5-1 to strip Arsenal of any confidence. The victory launched Liverpool's march to the top as they won their next 11 matches. Arsenal, meanwhile, never occupied top spot again.
What they said: "If ever a loss was designed to dismantle confidence this was it. Is a place in the top four the best they can hope for?"- BBC Sport's chief football writer Phil McNulty
Premier League top four after 8 February

Position
Club
Played
Won
Drawn
Lost
Points

1

Chelsea

25

17

5

3

56

2

Arsenal

25

17

4

4

55

3

Man City

25

17

3

5

54

4

Liverpool

25

15

5

5

50
19 Apr, Chelsea 1-2 S'land. Missed chances
Jose Mourinho boasted a proud record of 77 unbeaten home league games in his two spells at Chelsea but his first defeat at Stamford Bridge perhaps proved the most damaging to Chelsea's hopes of winning the title.
The Blues went into the game against relegation-threatened Sunderland with the chance to knock leaders Liverpool off their perch, but were undone by a catalogue of missed chances and errors.

After Cesar Azpilicueta felled Jozy Altidore in the closing moments to gift Sunderland striker Fabio Borini a winning penalty, Chelsea manager Jose Mourinho responded with a sarcastic tribute to referee Mike Dean that earned him a £10,000 fine from the Football Association.
But it was not the first time Chelsea had fallen foul of their inability to take their chances. They lost to Everton early in the season and drew with "19th century" West Ham in games in which they managed a combined total of 61 shots, but just 14 on target.
What they said: "I want to congratulate Mike Dean. His performance was unbelievable and when referees have unbelievable performances, it's fair that as managers we give them praise." - Blues boss Jose Mourinho
27 Apr, Liverpool 0-2 Chelsea. The slip
Head to a well-known search engine and the highest suggested search when typing in the name of the Liverpool captain is 'Steven Gerrard slip'.
That indicates just how crucial Gerrard's unfortunate error against Chelsea was. The Reds started the day five points clear at the top with three games left but were frustrated by a smothering Chelsea defence.

A point would have been enough to keep Liverpool in control but they gifted their opponents a goal when Gerrard slipped after mis-controlling a Mamadou Sakho pass and Demba Ba raced through to score.
It was a costly error and disrupted their momentum, having won their previous 11 league games. They proceeded to let slip a three-goal lead in the final 11 minutes to draw 3-3 at Crystal Palace. Individual errors played a large part in their title near-miss. Liverpool made 14 individual errors that led to goals, more than any other side in the top four.
What they said: "Unfortunately for Steven Gerrard, that slip is probably going to haunt him for the rest of his days. People will bring it up time and time again, but it isn't one mistake that costs you the Premier League title." - Former England full-back and BBC Sport pundit Danny Mills
The cost of individual errors

Team

Errors leading to goals

Errors leading to attempts

Errors leading to attempts and goals

1

Liverpool

14

29

43

2

Arsenal

10

26

36

3

Man City

11

12

23

4

Chelsea

4

7

11

Opta
7 May, Man City 4-0 Aston Villa. Dzeko steps up
After Liverpool's surprise 3-3 draw at Crystal Palace on 5 May, Manchester City went into the final week of the season needing two wins in their final two games - both at home - to be certain of the title.
For an hour, City struggled to break through a stubborn Aston Villa defence. But in Edin Dzeko they have a player who has proved a dependable source of goals and the Bosnia-Hercegovina striker made the breakthrough just before the hour and swiftly added a second to calm nerves inside Etihad Stadium.

With Sergio Aguero's season blighted by injuries and Alvaro Negredo's gradual loss of form, Dzeko has arguably been the one constant in City's forward line. He scored 16 league goals in 31 appearances, and 28 goals in all, but his most important have come in the run-in. He got the crucial openers against Villa and Crystal Palace, while his second against Everton ultimately proved decisive in a 3-2 win.
Premier League top four after 7 May

Position
Club
Played
Won
Drawn
Lost
Points

1

Man City

37

26

5

6

83

2

Liverpool

37

25

6

6

81

3

Chelsea

37

24

7

6

79

4

Arsenal

37

23

7

7

76
What they said: "He was the third-choice striker at the beginning of the season. He was hidden behind his manager's first choices and when the team needed him in crucial moments of the season, I think he made the difference." - Chelsea boss Jose Mourinho