Welsh Premier League issues flare warning following incidents
Last updated on .From the section Football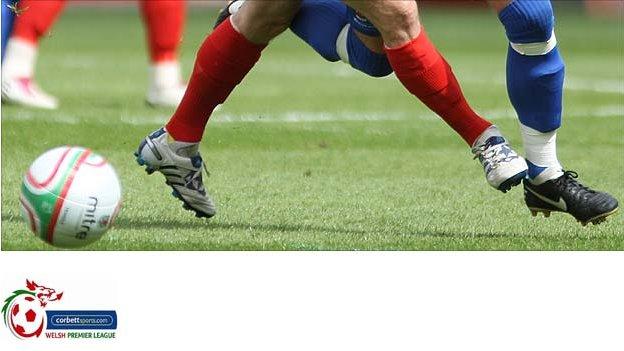 The Welsh Premier League has issued a warning following flare ignitions at recent matches.
Secretary Gwyn Derfel has written to clubs, asking them to be alert.
"We are all trying very hard to market ourselves as a family-friendly, safe environment," he said.
"But these incidents completely go against these principles.
"Unfortunately, at two live televised matches this month in WPL grounds, there have been incidents of flares.
"These are not only illegal and against all stadium ground regulations, but most significantly of all, can seriously injure or even kill spectators or players."
Corbett Sports Welsh Premier League champions The New Saints beat Bangor 9-1 in a game played in front of 711 people at Nantporth.
But league secretary Derfel revealed someone had set off flares during the afternoon.
"A few incidents during and after the game involving flares worried me as a parent and a supporter of the League," he said.
"One so-called fan let off a green flare in the toilets of the clubhouse which could have had serious repercussions for anyone suffering from respiratory problems.
"I urge anyone with information regarding this incident to contact me please.
"The recent Dutch Cup Final was held up for 30 minutes due to flares. The facts are simple - flares are dangerous and banned."