Ryan: Giggs: Man Utd role has echoes of Pep Guardiola - Bruce
Last updated on .From the section Football
Ryan Giggs could succeed as Manchester United manager in the same way as Pep Guardiola thrived at Barcelona, says Old Trafford stalwart Steve Bruce.
Hull City boss Bruce said: "There's been a lot of players who've jumped in. Guardiola, [Jurgen] Klinsmann - big players in big jobs.
"He might win the next four games and give them something to think about."
Fellow Premier League manager - and United fans' favourite - Ole Gunnar Solskjaer believes Welshman Giggs is destined to be a manager at the highest level.
"I have spoken to Giggsy, of course, and I wished him all the best," said the Cardiff City boss.
"Giggsy has got all the attributes to become a top, top manager one day, definitely.
"He is not one of those that always speaks every single day, but when he speaks you listen. It has always been that way. He commands respect."
Giggs had a relaxed air on Friday as he addressed the media for the first time since taking over.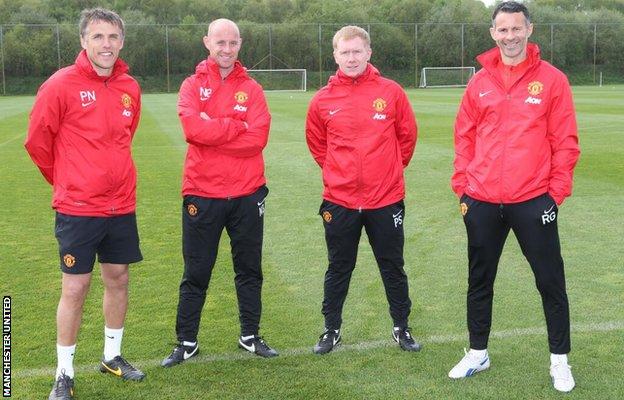 The club's most decorated player is a product of United's youth ranks and his coaching team includes former team-mates Phil Neville, Nicky Butt and Paul Scholes
Former United midfielder and England captain Bryan Robson believes the so-called Class of '92 can work as a management team.
"They have a very tight bond, having played together since teenagers," said Robson.
"They understand the club and its history and the way they play. Giggs will be a good manager - he has a strong will and is dedicated to the game. He will be a manager one day, he's got what it takes."
Asked if Giggs might be permanent United manager one day, Robson told BBC Sport: "He could be, but needs to prove himself. Guardiola has followed a similar path to Giggs at Barca - Giggs now needs to prove he's a good coach. "
Current Bayern Munich coach Guardiola started in Barcelona's youth team, before graduating to the full squad and later coaching the side to two Champions League titles.
Klinsmann went from player to coach for the German national side, which he led to the 2006 World Cup semi-finals.
Former United defender Bruce said Giggs, who has scored 168 goals in a record 962 matches for United, will improve his chances of getting the post permanently with a good run-in to the season.
"If they win the next three or four games 4-0 there'll be a clamour for Ryan. He has nothing to lose and no pressure on him, the supporters will be right behind him," he said.
The appointment of Giggs makes "total sense", according to former Manchester United striker Mark Hughes.
"Ryan has a way of getting his view across. He was always a player that led by example anyway. What he will have is total respect from everybody at United," said the Stoke City manager.
"It's probably the right appointment, the only appointment given the week that Manchester United have had."