Celtic: Neil Lennon plays down talk of Henrik Larsson return
Last updated on .From the section Football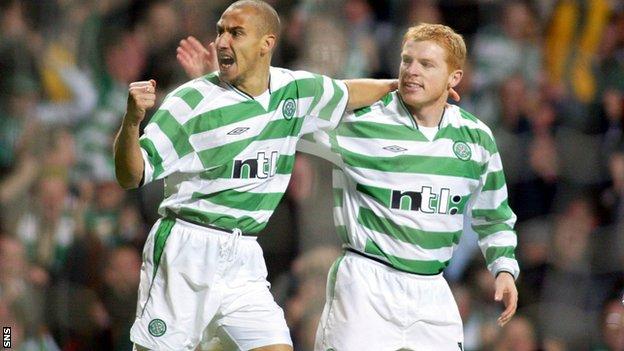 Manager Neil Lennon has played down speculation linking legendary striker Henrik Larsson with a return to Celtic.
When asked whether Larsson could succeed his fellow Swede, Lennon said: "Knowing Henrik, he wouldn't want to be number two to anybody, let alone me!"
Larsson scored 243 goals during a seven-year spell at Celtic from 1997.
Lennon, who pointed out that his former team-mate had just become head coach of Falkenbergs in his native Sweden, said his phone had been "red hot" following Mjallby's decision to quit.
"I'm very sorry to see him go," Lennon said. "He's been here with me since day one and he's had a huge influence on everything that we've done here for the last four years.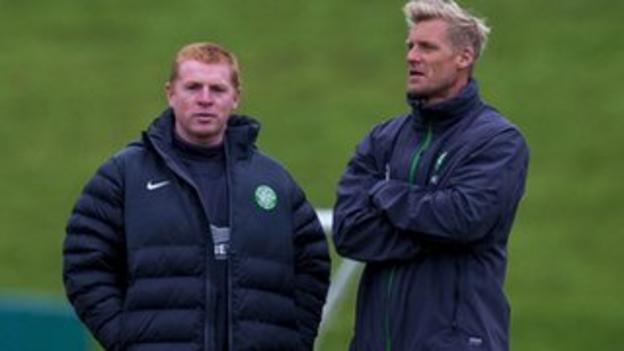 "But he has his own ambitions. He's been away from his family now for quite a while and that can take its toll. We wish him well in everything that he does. I'm sure he'll be a success at whatever he puts his hand to."
When asked if he had tried to persuade Mjallby to stay, Lennon replied: "Absolutely, but he's his own man.
"As a number two I couldn't have asked for anyone better. He had a huge influence on our style of play, certainly the defensive side of things."
As for his successor, Lennon said: "I've got a few people in mind. Whether they can come and do it at this stage of their careers is another thing.
"Ideally, [the candidate will be one] who'll come in and challenge things and maybe bring something different that we haven't had already but not too far away, not a complete role reversal.
"But we've got time to make that decision. Ideally, the guy, whoever it is, will be in on 24 June."
Meanwhile, Lennon described Rangers' target of winning the Scottish Premiership by 2017 as "ambitious".
The Ibrox side, who have won promotion to the Championship for next season, set out their aims following a business review.
"They'd need to spend a lot of money," said Lennon. "Whether they have that money, I don't know.
"We are very strong and we've no real thoughts of relinquishing the title just yet."