Ryan Giggs: We'll go back to playing the United way

By David Bond
BBC sports editor
Last updated on .From the section Football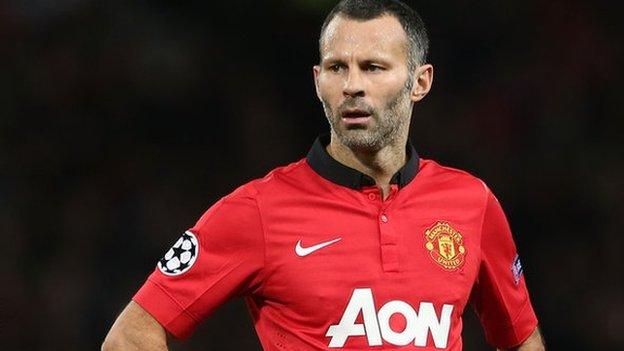 If Manchester United are a club in crisis, no one told Ryan Giggs.
He also joked that one of his first decisions was to hand himself a new five-year playing contract. At the age of 40 even that might be beyond the Welsh winger's powers.
The decision to place him in temporary charge has definitely given the club a lift. Experienced United watchers tell me it was easy to detect a lighter mood around the club's Carrington training ground this morning.
But while the gloom of the David Moyes era might have been blown away by this temporary fix, there's no escaping the grim week United have had since his sacking. Nor the difficult position they now find themselves in as they start the search for a new permanent manager in time for the crucial summer transfer window.
With the club anxious to look ahead they tried to ban the media from asking questions about Moyes's departure.
Football clubs really do themselves no credit with this type of behaviour. Giggs is an experienced operator with the media and could have comfortably fended off any difficult inquiries.
Still, this closed culture is not exclusive to United.
In the end Giggs did thank Moyes for giving him his break in coaching, admitted it had been a chaotic few days and, in a remark which might be perceived as a slight dig at Moyes's playing style, vowed the team would go back to the United way.
That will be a relief to the club's fans who must be struggling to take in just how much has changed in the space of 12 months.
For now the kids from the class of '92 are in charge - Giggs has been joined by Paul Scholes, Phil Neville and Nicky Butt to help him through the last four games of the season, starting with Saturday's home match against Norwich.
But the club know they need a manager with a proven track record at the very highest level not only to rebuild the squad but to restore United's battered reputation.