Man Utd: Sir Alex Ferguson is available to help Ryan Giggs
Last updated on .From the section Football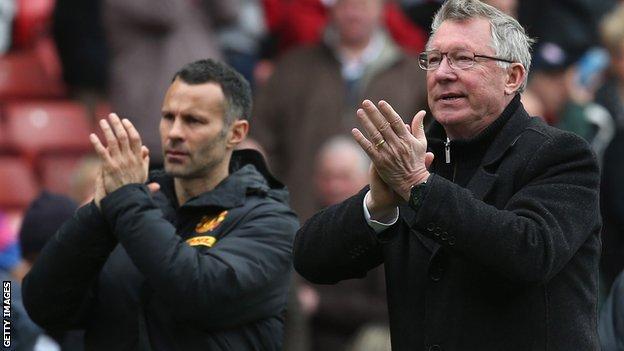 Sir Alex Ferguson has told Ryan Giggs he is available at any time to offer advice about handling the pressure of being Manchester United manager.
"He has given me advice and told me he is always at the end of the phone," Giggs said.
United have played down a report that Netherlands coach Louis van Gaal has signed a deal to become permanent boss.
Dutch newspaper De Telegraaf said he would take over after the World Cup in Brazil.
However, a United spokesman said: "There is nothing to report. We have not signed a new manager. When we have something to report, we will announce it."
Ferguson managed the club from 1986 until 2013, before retiring and Giggs added: "He was the first person I picked up the phone to. Why wouldn't I?"
"It's good to know I can turn to the manager if I ever need him."
Ahead of Saturday's Premier League encounter Giggs, 40, highlighted why Ferguson is the perfect man to talk to.
"He's been everything you can be as a manager - a young manager, an experienced manager, a successful manager," Giggs said.
The Welshman remains adamant United's players are far better than the results they have produced this season.
Unless there is a dramatic change in fortune, the Red Devils are set to miss out on European qualification for the first time since 1981.
Sunday's 2-0 defeat at Everton proved one blow too many for Moyes, who remains furious at his treatment by the Old Trafford hierarchy, in particular executive vice-chairman Ed Woodward. The Scot blames Woodward for his dismissal ending up in the public domain a day before he was sacked.
Giggs has been handed the responsibility of bringing an air of positivity back to United.
"It's been chaotic," he said. "You get pulled from pillar to post. I sit in the office to write notes because I'm trying not to forget anything.
"It's a pretty lonely place at times but I keep saying I'm enjoying it."
Giggs revealed Phil Neville has been handling training, while fellow Class of '92 members Nicky Butt and Paul Scholes have also been on hand to help out.
"They are Manchester United fans and have played for the club for the majority of their careers," Giggs said.
"Myself and Scholesy have been at just the one club.
"I've had great help from them. It's a tough job and you need as much help as you can get.
"Phil has been brilliant. He's organised everything and taken the weight off my shoulders."
Giggs is fourth favourite to get the job on a permanent basis, behind Louis van Gaal, Carlo Ancelotti and Jose Mourinho.
All three have vastly more experience but Giggs has the history of Manchester United on his side.
And if he can end the season with four successive wins, Woodward may find the momentum behind the Welshman becomes overwhelming.
"I've got a chance to show what I can do," Giggs said. "My focus is the next four games - not five years down the line.
"What happens at the end of the season is another conversation."