Ryan Giggs: Old Trafford united again by managerial natural
By Andy Cryer
BBC Sport at Old Trafford
Last updated on .From the section Football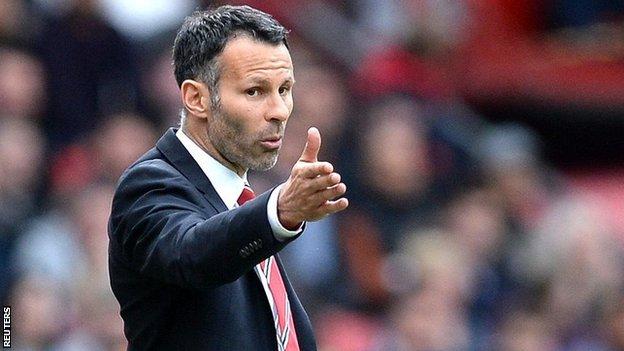 Two managerial rookies took to the stage at Old Trafford on Saturday evening - but by the end of a one-sided 90 minutes it was Premier League football's newest boss who looked very much at home.
It may have been 'only Norwich' - but Ryan Giggs delivered on his promise to inject some life into a Manchester United side who had been beaten by Stoke, West Brom, Swansea and Sunderland already this season, dealing up a comprehensive 4-0 win. and leaving fellow new manager Neil Adams staring nervously at relegation.
As Giggs emerged from the tunnel before the match and strode towards the home dugout, more than 70,000 supporters rose to acclaim one of their own. Old Trafford was united again.
In his record 962 appearances, Giggs has become the club's most decorated player after two decades of almost continual success. His first match as manager - albeit a temporary one - came with United at their lowest Premier League ebb.
The 40-year-old was appointed interim manager on Tuesday following the dismissal of David Moyes, just 10 months after he succeeded Sir Alex Ferguson as manager.

All signs of Moyes's 10-month tenure were already gone. 'The Chosen One' sign that had hung from the Stretford End at Old Trafford since August had been removed as a party atmosphere engulfed Old Trafford once more.
Giggs made the walk towards his seat pre-match on his own looking every inch the manager. He was dressed smartly in a club suit and tie and solemnly applauded the supporters who were giving him a hero's welcome. He even found time to sign a few autographs.
It would have been easy to imagine that United were on their way to winning one of the 13 Premier League titles the Welshman has won, such was the atmosphere.
Not coming to the end of a season that is already guaranteed to record their lowest points tally in the Premier League era, bring no trophies and the likelihood of missing out on European qualification altogether next season.
Flags were waving, supporters were in full voice and there was a celebratory mood around the 'Theatre of Dreams' as United fans hoped they were waking from a nightmare.
Even before the match you could sense something had changed. Giggs promised to bring the smiles back to faces and to get the team playing 'the United way' and the first part of that promise was immediately kept.
A group of fans chanted "United are back" as they walked down Sir Alex Ferguson Way. A bit premature yes, but it was a sign of the new sense of optimism Giggs's temporary appointment has brought.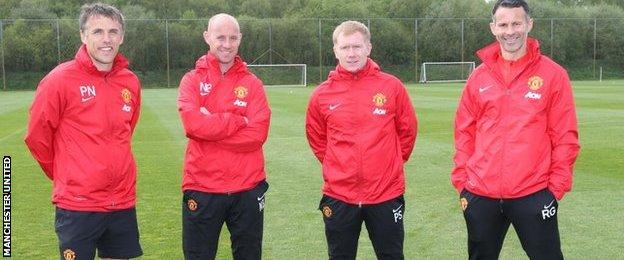 "There is real relief," said United fan John McCormack, 45. "I was feeling depressed in recent weeks and it must have been because of United.
"Ryan Giggs is a legend. Having him in charge until the end of the season brings some positivity back. The board have to get the next appointment right but at least we can all enjoy the last few games. That is something we haven't done much this season."
How long Giggs's first taste of management lasts remains to be seen. Although, with United forced to play down a report that Netherlands boss Louis van Gaal has agreed to become the new manager, it seems increasingly likely it will be just four matches.
Giggs promised to put his own stamp on things and his first team selection did just that. Moyes's two big-money signings - Juan Mata and Marouane Fellaini - were dropped as he made six changes from the 2-0 defeat at Everton which ended Moyes's reign.
Giggs admitted he suffered a sleepless night on Friday as he fretted over his XI, telling record £37m signing Mata face-to-face that he would not be starting, but he was rewarded with a fine cameo from the Spaniard who added two goals from the bench.
With Giggs joined on his coaching staff by Nicky Butt, Phil Neville and Paul Scholes - three fellow members of the 'class of 92' - Old Trafford expected a return to the good times after six defeats at home under Moyes this season.
The quartet of United legends have made 2,453 appearances for the club and won 61 medals between them and, from the off, they got the class of 2014 attempting to play with the pace and width that had brought much of their success.
The Old Trafford faithful had never turned against Moyes but, as he struggled to turn the club's fortunes around, his presence was becoming increasingly divisive. There was no such division on Saturday.
A plane sporting the sarcastic message "Thank you Moyes - Malta FF", organised by a group of Maltese fans, was the only reminder of the past 10 months but the drone of the aircraft was drowned out by the supporters inside the ground.
Giggs's first foray onto the edge of his technical area to pass a message onto his players was greeted with a loud roar of approval, as was virtually every appearance thereafter. The whole repertoire of Giggs songs were sung within the first 10 minutes as he watched on intently.
United started as though Giggs's emphasis on attack had made an impact. There was a pace and urgency about the side that had been lacking for most of the campaign and they were rewarded with Wayne Rooney's penalty just before half time.
Giggs's response? A subtle double fist clench and another set of instructions shouted out to his players.
Things were to get better after the break as some of the old United swagger returned. Rooney curled in United's second, before substitute Mata added a double.
As United dominated, Giggs, Scholes, Butt and Neville looked in complete control as the club's new management team. Instructions kept coming and the players looked to respond as they played with a sense of freedom that was rarely there under Moyes.
Giggs ended the match as he had begun it, walking down the touchline to his name being sung by the supporters. A quick round of applause to all sections of the ground, a handshake with Norwich boss Adams and his managerial debut was over.
The American Glazer family have turned to a managerial rookie to steady the club but, his first few days in the job suggest he will have no problem stepping out of Sir Alex Ferguson's shadow - something Moyes never achieved.
His legendary status is already secured and his promotion from player-coach to interim boss appears to have instantly commanded the respect of players and fans alike.
Just six weeks ago, Giggs had been on a media training course as part of his Uefa coaching badges. He already seems to be natural.
Just as he was in the build-up, Giggs was composed, thoughtful and endearing in the post-match news conference. He already has the media eating out of his hands, has the fans support and got an emphatic response from the players. Could United's long-term answer already be at Old Trafford?
Ferguson once wrote in his autobiography: "Ryan could definitely be a manager because he is so wise and players invariably respect him."
Sooner or later you get the feeling Sir Alex will once again be proved right.