Man Utd: Ryan Giggs will have 'tidal wave' of support - Hansen
Last updated on .From the section Football
Alan Hansen believes Ryan Giggs will enjoy a "tidal wave" of support in his bid to become Manchester United's new manager if they end the term strongly.
Dutch coach Louis van Gaal remains favourite to be United's next boss.
But Hansen said: "If Ryan Giggs wins the next three matches 4-0, there will be a tidal wave of sentiment in his favour from everywhere."
Speaking on BBC's Match of the Day, the former Liverpool captain said the support would come from "inside and outside Old Trafford".
Giggs has the remaining three matches - home games against Sunderland and Hull and a trip to Southampton - to impress United's board with his managerial qualities.
His odds on becoming United's next manager have already dropped from 14-1 to 7-2 following Saturday's comprehensive Premier League victory over Norwich.
He also has influential support with Sir Alex Ferguson reportedly telling a charity lunch this week that United should give the job permanently to the player he signed as a 14-year-old schoolboy in 1987.
But Netherlands coach Van Gaal, 62, will be available once his contract with the Dutch national team expires after the end of the World Cup finals in Brazil. United have denied any deal has already been signed.
Van Gaal has previously been linked with a summer move to Tottenham.
BBC pundit Robbie Savage believes Van Gaal would be the best appointment, allowing him to rebuild the team with Giggs groomed as his successor.
"I would give it to Van Gaal and Giggs the one after him," he told Match of the Day. "He has the experience around the world and I think he can do it."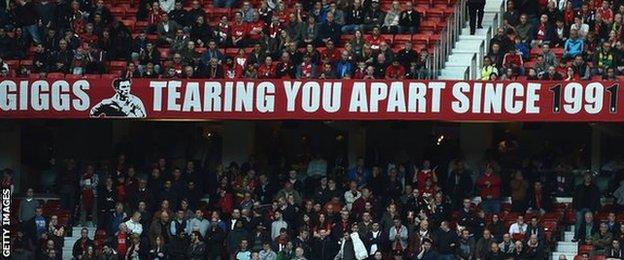 Giggs, now 40, admitted his debut as a manager could not have gone much better.
"All the years I walked out at Old Trafford, I've never felt like that," said Giggs."I felt 10 feet tall.
"I enjoyed it and 4-0 is a dream day for us so I'm really pleased."
The Welshman had promised a return to an exciting brand of football and to put smiles back on faces after a "frustrating" season.
He made six changes to the team which lost at Everton last weekend and his side responded with 11 shots on target - more than in any previous league game this season - as two goals apiece from Wayne Rooney and Juan Mata sealed a comfortable win.
Despite the comfortable success, the United boss dodged questions on holding any long-term hopes of landing the job on a permanent basis, instead saying he "was focused on Sunderland" - their next opponents.
United trail sixth-placed Tottenham by six points with one game in hand, but are resigned to falling short of 70 points for the first time since 1991.