Rangers chief executive Graham Wallace in police probe
Last updated on .From the section Football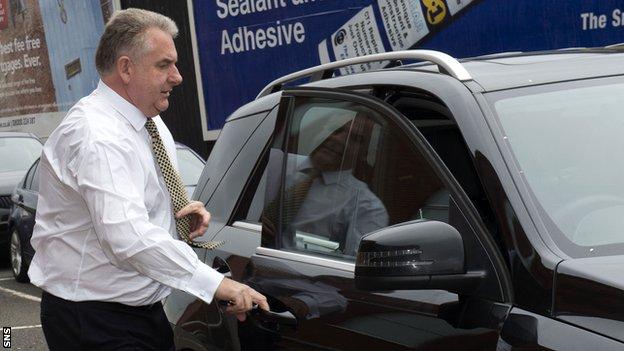 Police Scotland is investigating a complaint from a Rangers shareholder against the football club's chief executive, Graham Wallace.
A police spokeswoman confirmed: "We have received a complaint, which is currently being assessed to establish if there is any criminality.
"It is an allegation of a contravention of the Companies Act."
A Rangers spokesman said: "Mr Wallace has no knowledge of a complaint, which if put to the football club, has no grounds.
"The outcome of Mr Wallace's business review published by Rangers on Friday gave a comprehensive overview of the circumstances surrounding his arrival at the club and the financial assumptions made at the time."
Former director Dave King and the Union of Fans have both urged Wallace in open letters to explain his comments to shareholders.
They complain that Wallace had insisted that the Glasgow club had sufficient funds to continue operating until May before taking out an emergency loan of £1.5m two months later.
The Union of Fans, an umbrella group for supporters groups, said earlier this month: "We also still await answers to the questions posed by Dave King and, in particular, the question regarding Mr Wallace's AGM pronouncements about the cash position of the club, which we do not believe to have been true."
On Friday, Wallace - who took charge in November - released the results of his long-awaited business review of Rangers, in which he admitted that £70.7m raised through season-ticket sales, commercial revenues and a 2012 share issue had been spent "relatively quickly and, in some areas, liberally".
He said that Rangers, who have won the League One title this season, would need to raise a further £30m by 2017, including a new share issue, in order to compete at the top of Scottish football.
The Glasgow club are expected to announce staff redundancies, having described their financial position as "precarious".
With the Union of Fans urging supporters to boycott season-ticket sales and pay their money into a holding account set up by King, Rangers have warned that they will be "unable to trade in the short term" if there is "a substantial decrease in season-ticket income".
Meanwhile, Rangers manager Ally McCoist is to meet Wallace on Monday to discuss finances and potential signings but expects his playing budget to be similar to this season's.