Man Utd: Phil Jones denies players gave up on David Moyes
Last updated on .From the section Football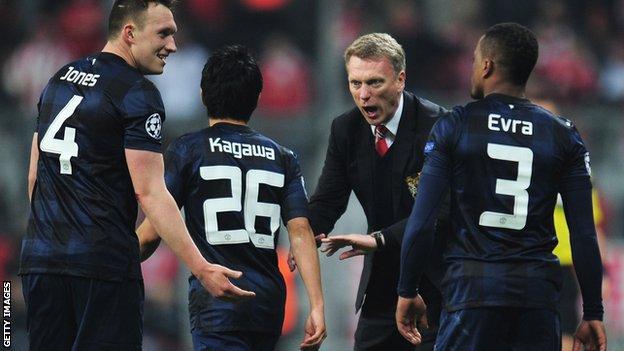 Phil Jones has denied that Manchester United's squad stopped playing for former manager David Moyes.
"Players don't go out on the football pitch to lose games," said Jones, after Saturday's 4-0 win over Norwich.
"We are sorry he has lost his job and we didn't get some of the results we would have liked to for him."
The defeat at Everton ensured United are resigned to missing out on Champions League qualification for the first time since 1995.
Unless they can climb from their present seventh place, they will not even claim a place in next season's Europa League.
Moyes was criticised for his work in the transfer market and a perceived negative style of play.
But England defender Jones, 22, said he had sympathy at Moyes losing his job only nine months into a six-year contract.
"He is a nice man, a nice fella and we wish him all the best," he said.
Asked whether the players stopped trying for Moyes, Jones insisted: "Everyone wants to win every game at this club.
"It's not happened for whatever reason but we need to move on quickly and end the season well."
Former Birmingham and Aston Villa manager Alex McLeish believes the pay-off negotiated between the League Managers Association and United would provide little consolation to Moyes.
"Myself and David Moyes, we are driven people and we want to work," said McLeish.
"You look at your own personal situation and you want to get back - it's nothing to do with the money, you want to get back in the dug-out."