Luis Suarez: From Premier League pariah to PFA Player of the Year

By Phil McNulty
Chief football writer
Last updated on .From the section Football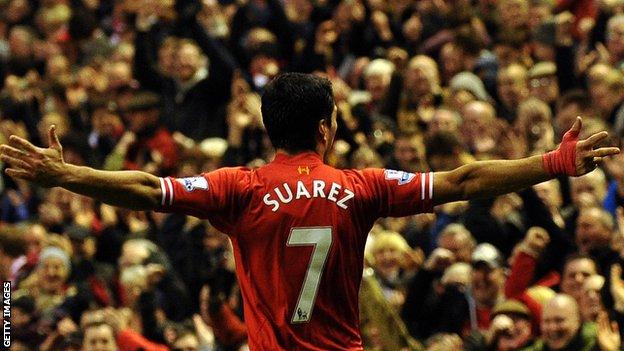 Turn the clock back 12 months, almost to the day, and the rehabilitation of Liverpool's Luis Suarez from disgrace to acclaim can be accurately measured.
The Uruguayan, despite public support from Liverpool, was regarded as a pariah throughout the Premier League and the incident was the start of a summer-long campaign by Suarez to engineer a move away from Merseyside.
Thanks to the sheer obstinacy of Liverpool's owner John W. Henry, who ignored a bid of £40,000,001 from Arsenal they thought would trigger a release clause in his contract, and tough love from manager Brendan Rodgers, Suarez has reassembled his reputation.
Suarez was deservedly crowned PFA Player of the Year on Sunday night, an accolade tinged with the disappointment he will have felt at Liverpool's 2-0 home defeat to Chelsea earlier in the day, a result that threw the Premier League title race wide open.
Despite this, the PFA honour is just reward for a season of sustained brilliance that has moved him into the same rarefied company occupied by Barcelona's Lionel Messi and Real Madrid superstar Cristiano Ronaldo.
It is also recognition for the manner in which he has become the focal point for the dazzling attacking football that has given Liverpool genuine hope of their first title triumph in 24 years.
Suarez has been called many things since he arrived at Anfield from Ajax - alongside the ill-fated £35m signing Andy Carroll on 31 January 2011 - but no-one has dared to call him anything less than a world-class player.
Until this season, however, the 27-year-old who arguably plays with intensity unmatched in world football, has always threatened to have glorious natural talent overshadowed by the dark side that chequered his past.
It has not gone away. Take his miraculous, not to mention ridiculous, instant recovery from seemingly serious injury against Norwich City last Sunday when the ball suddenly came in his direction. Manchester City's players also demanded his dismissal for diving in their recent 3-2 defeat at Liverpool.
And the competitive fire still rages as fiercely as ever, as pictures of Suarez in an apparent disagreement with Liverpool team-mate Martin Skrtel over a game of head-tennis at their Melwood training headquarters this week seemed to prove.
Suarez still plays right on the edge. He would be diminished if he did anything else - but he has stopped crossing the line so regularly.
No-one can deny that Suarez has made a conscious effort to shake off his villainous image and make headlines with his football this season. He has done so in a manner that has even drawn comparison with his most illustrious predecessor in Liverpool's number seven shirt, Kenny Dalglish.
This is a season where Suarez should be remembered for his spectacular deeds with the ball at his feet. He is the Premier League's leading scorer with 30 goals despite missing the first six matches while completing his suspension for biting.
There are few players in world football who strike such terror into opposition players and supporters when they are on, or even near, the ball. Suarez's very presence can cause disintegration in defences.

Suarez has rightly shared the plaudits with fellow attackers Daniel Sturridge and Raheem Sterling as Liverpool have been transformed from outsiders to title front-runners since successive losses at Manchester City and Chelsea over the Christmas holiday.
This recognition by his peers is proof, though, that Suarez is regarded inside the game as well as out as the most dangerous weapon in Liverpool's army. He is also evidence of Uruguay's main World Cup threat to England, parked right on the Premier League's lawns in front of manager Roy Hodgson this season.
Former Liverpool defender Jamie Carragher has likened Suarez's impact, and indeed combustible personality, to the days when Eric Cantona was the trigger for the years of success at Manchester United after moving from Leeds United.
It is all a far cry from 12 months ago when Suarez's punishment, and what he wrongly regarded as persecution by the British media, led him to seek a route out of Anfield. Real Madrid did not come calling and Liverpool were simply not in the business of selling him to Premier League rivals Arsenal.
Despite a lame performance in Steven Gerrard's pre-season testimonial match, Liverpool's supporters still offered him their support. It was, no doubt, out of the knowledge of how much a Suarez in the right frame of mind could offer them. And so it has proved.

Rodgers also played his part in re-integrating Suarez into the fold after accusing him, during those weeks of discontent, of showing "a lack of respect of a club that has given him everything. Absolutely everything."
Slowly but surely the wounds were healed and he marked his Premier League return at Sunderland on 29 September, after playing in the Capital One Cup defeat at Manchester United, with two goals in a 3-1 win.
Since then he has been close to unstoppable in many games and his partnership with Sturridge resulted in the pair becoming the first Liverpool strikers to score more than 20 league goals in the same season since Roger Hunt and Ian St. John 50 years ago.
And in doing so, Suarez has provided himself and Liverpool with a prize that escaped him and was another source of discontent last summer, as well as to play a big part in history if the title comes back to Anfield.
The key to Suarez's continued presence at Anfield after this season was always going to be Champions League football and this has already been achieved. A player of such stature requires that stage and he will grace it next season.
Liverpool's owners and manager Rodgers deserve great credit for their part in the transformation - but the greatest credit goes to Suarez himself.
And it is a sign of his world-class ability that even opponents among whom he has inflicted such havoc can set that aside and accept he has been the Premier League's outstanding performer this season.