Edinburgh derby: Hearts send Hibs deeper into crisis

By Tom English
BBC Scotland at Easter Road
Last updated on .From the section Football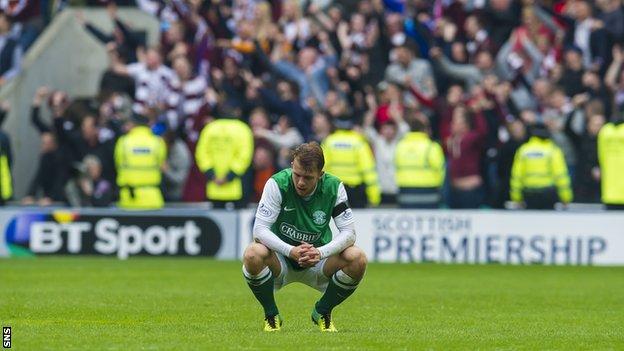 At the end, Rudi Skacel left his seat in the main stand and made his way for the exit, three yellow-jacketed security men flanking him as he went. A mini coterie of protectors.
His route out of the ground took him down to the end of the stadium populated by the Hearts fans. Thousands of them, whooping it up and mocking the departing home supporters in song.
"Down with the Jambos, you're going down with the Jambos."
And then…
"One Terry Butcher, there's only one Terry Butcher."
The Hearts fans caught sight of Skacel and paid homage. Skacel immediately returned the compliment.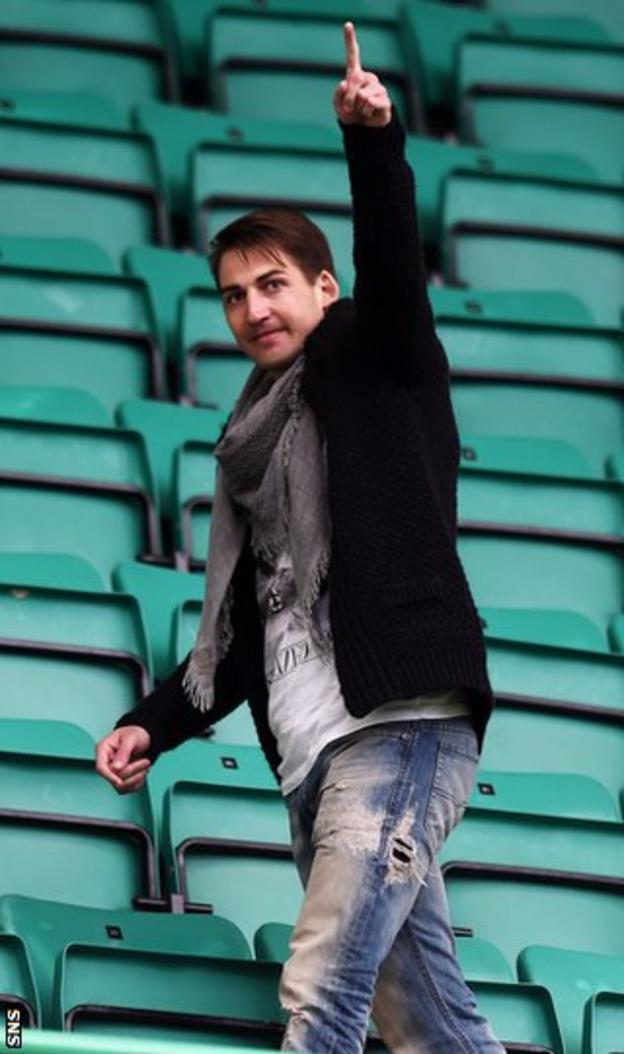 If you had dropped in from Mars, you would have sworn that these people were partying in celebration of a championship or a cup win rather than a victory that will make no material difference to their season. They're going down, but they're doing the devil's own job in trying to take Hibs down with them.
Their euphoria was, of course, all about schadenfreude, all about doing damage to Hibs, all about dragging them ever further into the mire at the foot of the Premiership and then gloating in the process. This was payback, part two, following on from their triumph over Hibs at Tynecastle in the last Edinburgh derby.
Butcher thought he was climbing up a managerial greasy pole when he moved to Hibs, but he's now sliding down a slippery slope. There is a rubber-necking aspect to what is going on at Easter Road now. The more serious it gets, the harder it is to avert your eyes.
Hearts, for all their travails, have won four of the five Edinburgh derbies this season. They have won more league games and scored more goals than Hibs. They are the buoyant ones. The ones who stayed behind in the stadium and rejoiced while their counterparts left in varying degrees of anger and resignation.
What damage Hearts have done to their city neighbours this season. And what wounds Hibs have inflicted on themselves.
Butcher will try to drag the positives out of this, but it will be hard. He will take a modicum of comfort that the four-match goal-less run was finally ended. One monkey off the back but a zoo-full still remaining.
He will be somewhat relieved that the soul-less performances of recent times came to an end. Hibs were combative when falling 2-0 behind. They didn't capitulate.
They controlled the second half, scored a goal and peppered the visitors with their passion and their intensity. Hibs threw the kitchen sink at Hearts. The problem is that it's not much of a kitchen sink.
They played most of the game with one striker. Jason Cummings, an 18-year-old who has never scored a senior goal in his young life was the man-child selected up front. Later, Butcher brought on James Collins. Later still, he stuck Michael Nelson, a centre-half, up there as well. It was no kind of solution.
Collins had a glorious chance to level it and flunked the test. Five minutes left and a lifeline presented itself. A ball running free close to the Hearts six-yard box. Collins on to it. A sweep of his boot and then, derision. He missed the ball and kicked the goalkeeper. Another moment of slapstick in a season that has contained so many.
Butcher's attempt to turn crumbs of comfort into a reassuring feast falls woefully short. His team might have had attitude in that second half, might have pinned Hearts back and threatened an equaliser, but they were - and have been for so long - hamstrung by the carry-on in front of their own goal, where Nelson and Jordon Forster are at the centre of a back four that are as vulnerable as newborn kittens.
During the week, Butcher told his defenders of the danger posed by Callum Paterson at the set piece. Paterson is big and physical in pursuit of a corner or free-kick. He bullies defenders. He scores goals. Butcher knew this. So did Nelson and Forster and the rest. They knew it, but they didn't stop it.
The opener was against the run of play. Hibs hadn't created much, but they'd been on top. In a game of relentless speed but precious little accuracy, they had settled first and looked comfortable until Paterson's strength and desire and Hibs' terrible inability to see danger coming from three paces did them in.
A back-post header and 1-0. Another header four minutes later and 2-0. Hibs had legitimate gripes about the free-kick that led to the second goal, but a refereeing injustice doesn't absolve them of blame for what happened next.
Paterson was so determined. Far too determined for Forster, who was supposed to be marking him. Butcher can carve out little pockets of positivity from this game, but what he is seemingly incapable of doing is making his defence less of a soft touch.
It's been 16 games since Butcher's awful run of failure began. In that time, Hibs have conceded an average of two goals a game. They are effectively beginning every match with a two-goal deficit. It's a handicap that would suffocate most teams not to mind one with the kind of powder-puff attack that Hibs possess.
The thing about this game is that Hearts put in a poor display. They got their goals but didn't bring a lot to the table.
In the second half, they retreated, wasting possession and inviting Hibs on to them. They were under the cosh for most of it - and Hibs weren't good enough to execute.
On Saturday, Hibs host Partick Thistle, who are fighting hard for their survival and who have a win and a draw from their last two games.
The last time the sides met, Thistle won 3-1. That was in the middle of March, when Hibs were slowly realising that they were in the midst of a scrap to avoid the play-offs. That scrap has now turned into a crisis.