Manchester City not title favourites - Manuel Pellegrini
Last updated on .From the section Football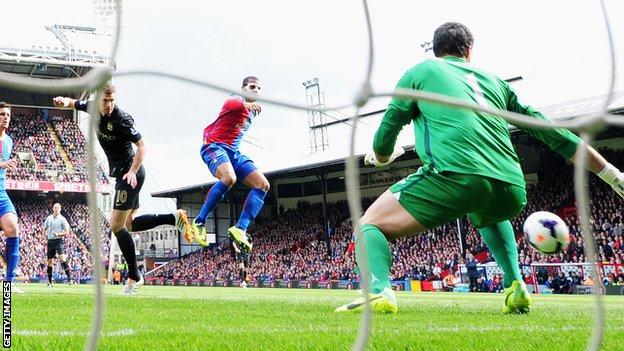 Manchester City are not favourites to win the Premier League, according to manager Manuel Pellegrini.
Pellegrini's men have a game in hand on their title rivals, as well as a superior goal difference.
But the Chilean said: "There is no advantage now, no. It depends what we can do in the future."
He added: "This league will be decided by a narrow margin, maybe one point, maybe even goal difference."
City's game at Selhurst Park kicked-off immediately after Liverpool's defeat by Chelsea and Pellegrini praised his team for retaining their focus.
"The players knew the score, but it was a very professional performance," said the 60-year-old. "It could have been difficult for us to manage the game but we did it very well.
"For the moment we'll continue in third position, so we have to play and win our three games but the good thing is that the destiny is in our own hands."

Pellegrini's men travel to fifth-placed Everton next weekend before finishing their campaign with home games against Aston Villa and West Ham.
"The most important thing is just to concentrate our minds on the next game," said the former Villarreal boss.
"We are not thinking about goal difference, we are just thinking about how to beat Everton next week.
"If we win our three games and Liverpool win their two, then maybe the goal difference will be important. But before that, we've got to concentrate on the games ahead of us."
Yaya Toure provided the cross for Edin Dzeko's opening goal, then curled in City's second as Palace's five-match winning run came to an end.
Toure, who missed the previous two games with a muscle injury, was substituted in the 66th minute and Pellegrini said he hoped the 30-year-old would be closer to full fitness for the trip to Goodison Park.
"We hope, but we don't know," said Pellegrini.
"He was very important for both goals. Yaya only worked with the team the last two days, that's why he didn't play more than 60 minutes, but he's a very important player for us.
"We have a squad and in every game I try to choose the best players that will fit for that moment. Having Yaya fit will be very important."
Race for the Premier League title

Liverpool

Chelsea

Man City

5 May:

Palace (a)

4 May:

Norwich (h)

3 May:

Everton (a)

-----

-----

7 May:

Aston Villa (h)

11 May:

N'castle (h)

11 May:

Cardiff (a)

11 May:

West Ham (h)