Dani Alves: Barcelona player backed by banana-eating stars
Last updated on .From the section European Football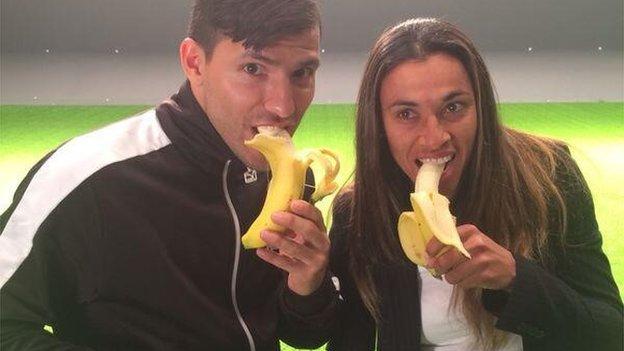 Stars from the world of football have backed Barcelona's Dani Alves after he reacted to having a banana thrown at him by peeling it and taking a bite.
Manchester City's Sergio Aguero posted a photo of him with Brazilian female player Marta eating bananas in support.
Fifa president Sepp Blatter tweeted: "What Alves tolerated is an outrage. Will be zero tolerance at #WorldCup."
Blatter, referring to this summer's tournament in Brazil, added: "We must fight all forms of discrimination united."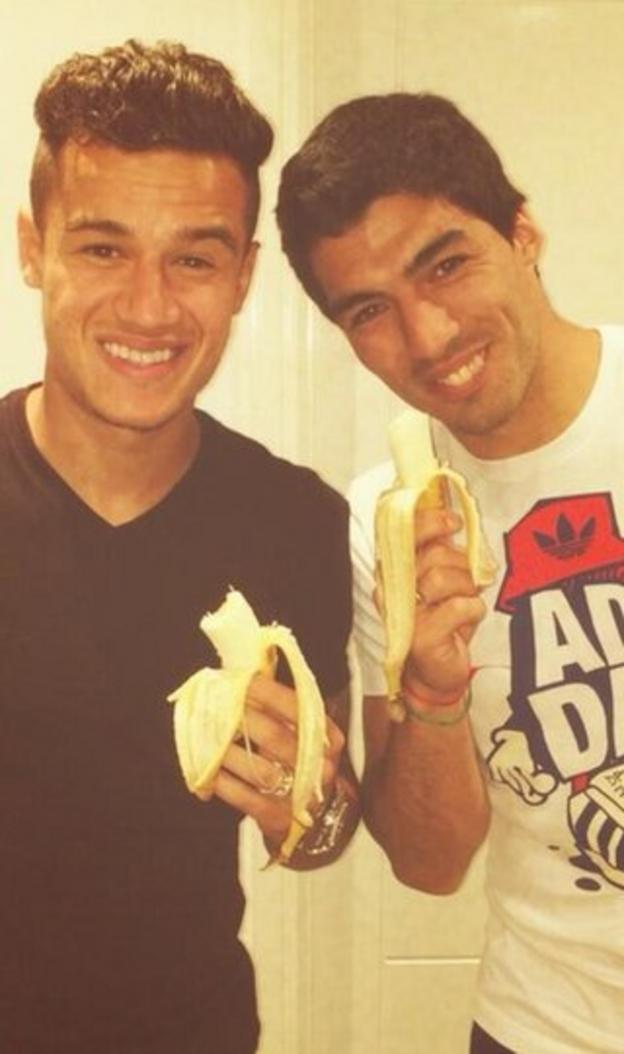 Neymar, who plays alongside Alves for club and country, posted a picture of himself holding a banana in a demonstration of solidarity - a move repeated on Instagram by Chelsea's Brazilian trio Oscar, David Luiz and Willian.
Another Brazilian, Liverpool midfielder Philipe Coutinho, posted a picture on Twitter of himself and Reds team-mate Luis Suarez holding bananas.
Compatriots Hulk, Fred and Lucas Leiva displayed their support via their social media accounts, with the Liverpool midfielder writing on Twitter: "Congratulations on your attitude yesterday. We are together on this fight against racism."
Tottenham duo Nacer Chadli and Mousa Dembele were also pictured eating bananas along with a message supporting the fight against racism.
Togo and Tottenham striker Emmanuel Adebayor said he had "massive respect" for Alves, adding on Twitter: "There is no place for racism in Football. #saynotoracism."
Brazil's president, Dilma Rousseff, joined the widespread outrage.
"The player Dani Alves gave a daring and strong response to racism in sports," she said in a series of Twitter messages, adding that such racism had become "unfortunately common."
Villarreal have confirmed they have identified the person responsible for throwing the banana and have issued them with a lifetime stadium ban.
A statement on the club's website read: "The club deeply regrets and condemns the incident.
"Thanks to the security forces and invaluable assistance of Villarreal fans, the club have identified the culprit and decided to withdraw their season ticket and ban them from entering El Madrigal stadium for life."