Man Utd job: How Champions League shock changes the picture
Last updated on .From the section Man Utd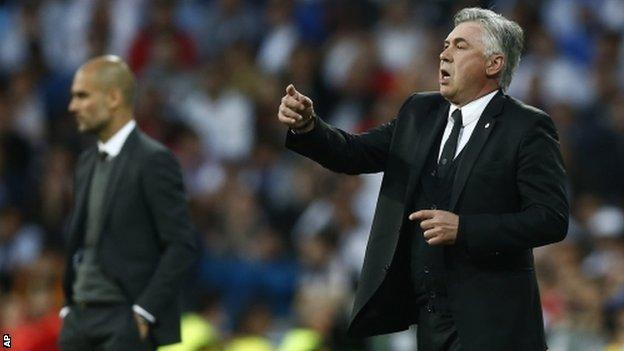 Real Madrid's stunning 4-0 thrashing of Bayern Munich at Allianz Arena on Tuesday has implications beyond the destination of this season's Champions League.
The match highlighted the shifting fortunes of two of Europe's best managers - and it could well have significance for Manchester United's quest for a new boss.
Netherlands boss Louis van Gaal, who is leaving after the World Cup, remains the overwhelming favourite to replace David Moyes, who was sacked on 22 April after only 10 months in charge.
But while 54-year-old Carlo Ancelotti is less likely to be lured to Old Trafford after steering Real to a big win in Munich and a possible first European crown in 12 years, could United now be tempted into a move for Bayern boss Pep Guardiola?
Sir Alex Ferguson, who was United manager for 26 years before choosing Moyes as his successor last summer, met Guardiola in New York during the former Barcelona coach's year-long sabbatical.
In April, the Spaniard claimed he was not entirely sure whether, during their dinner, Ferguson offered him the chance to take over at Old Trafford or not.
However, there is little doubt the 43-year-old - who won 14 trophies in four years as Barcelona manager from 2008 to 2012 - is held in the highest esteem at United, having beaten the Old Trafford side in both the 2009 and 2011 Champions League finals.
And even the merest hint of encouragement from Guardiola's camp would surely prompt an enquiry for someone who, like Borussia Dortmund's Jurgen Klopp, United regarded as 'ungettable' when the club began the process of replacing Moyes.
Even in the wake of Bayern's worst home European defeat in their history, Guardiola could still regard his first season at Allianz Arena as a success.
The Bundesliga title was secured in record time and Bayern will complete a domestic double if they overcome Dortmund in the German Cup final on 17 May.
Nevertheless, not everyone is happy.
By common consent, the side that won the treble under Jupp Heynckes last season has been reduced in effectiveness.
And club president Franz Beckenbauer has not been reluctant to express his displeasure.
"Bayern is not right. This is something that we have known for weeks," said Beckenbauer.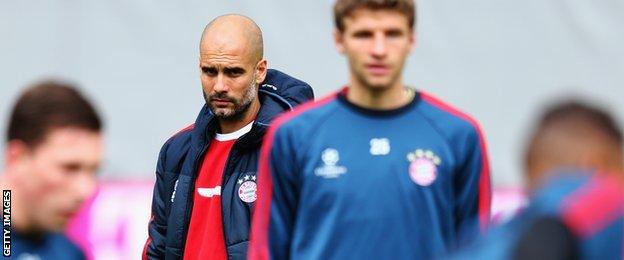 "From August until the season restarted a few weeks ago [after the German winter break], they played at the highest level and with maximum concentration. Then began a period of weakness and poor concentration that lasts until now."
And it appears Beckenbauer is not a fan of the 'tiki-taka' possession and passing-based style with which Guardiola enjoyed such success at the Nou Camp.
Last month, the man who captained and coached West Germany to World Cup glory was critical of the Barcelona philosophy.
"Barcelona are unwatchable because they pass the ball backwards when on the goal-line," he said, offering a view of the Catalans' Guardiola-inspired style that he reinforced after the first-leg defeat in Madrid a week ago, when Bayern boasted 64% of the possession but lost 1-0.
"Possession doesn't mean anything when your opponents create the better chances."
Some bookmakers have even installed Guardiola as the third favourite to replace Moyes, behind Van Gaal and temporary manager Ryan Giggs, 40, but ahead of Ancelotti, who now has a Champions League final in Lisbon to prepare for on 24 May.
And realistically, former Chelsea boss Ancelotti may well now be in the 'ungettable' category, whether he ends up with silverware in the first season of a three-year contract or not.
After all, United's executive vice-chairman Ed Woodward would require pretty good powers of persuasion to convince Ancelotti it was worth turning his back on a squad containing talent like Gareth Bale and Cristiano Ronaldo for one facing a period in exile from the competition they have graced for so long.
Though that absence in itself is not a complete disaster.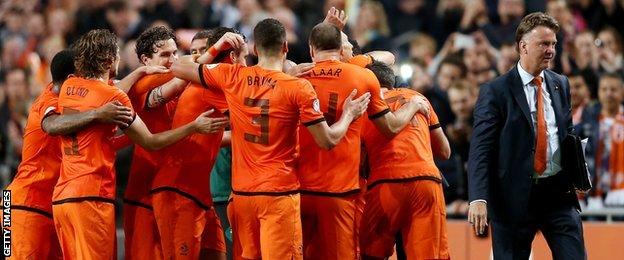 Bayern Munich missed out for a season following their fourth-place Bundesliga finish in 2006-07. AC Milan were absent in 2008-09 and will be again next term after a campaign that, like United's, leaves them outsiders to claim even a Europa League spot next term.
The same applies to Inter Milan, winners of the Champions League under Jose Mourinho in 2010.
Yet all these clubs remain attractive propositions.
Nevertheless, it is not an advantage to be on the outside looking in and, in United terms, with Giggs still viewed as being too inexperienced to risk as a permanent appointment, the big winner from events in Munich was Van Gaal.
The 62-year-old has held talks over the vacancy and, although he is due to name a Dutch World Cup training squad on Friday and hold a three-day camp next week, United do not view that as any kind of deadline for whatever decision they make.