Alfreton Town: Wayne Bradley puts Conference club up for sale
Last updated on .From the section Football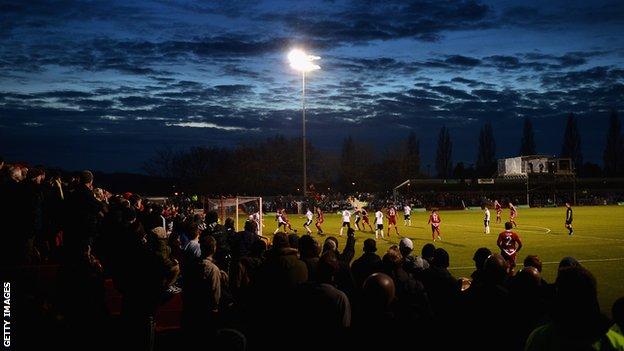 Alfreton Town chairman Wayne Bradley has put the Conference Premier side up for sale because he believes he has taken them as far as he can.
A poor end-of-season-run saw the Reds miss out on the play-offs after an impressive campaign which still saw them finish in 11th - their highest placing in the football pyramid.
Bradley said: "I have taken the club to the level where I believed I could.
"But it is obvious we need more input to progress to the next level."
The Reds lost four games in a seven-match winless run at the end of the season and missed out on a play-off spot having been in the top five for most of the season.
Bradley said he would be happy to stay on and help the new owners in some capacity but would also be prepared to walk away.
However, he is convinced Alfreton need fresh impetus and investment.
He added: "We have had three years at non-league's top table, and having assessed the level of opposition and the requirements, I firmly believe it is attainable but it is going to need a fresh injection of finances.
"We have got a support level that is going the wrong way and an income level that is following suit.
"There have been creaks in the club from the running point of it for around eight years.
"Alfreton, on gates on well below a thousand, are trying to compete with clubs who have over 3000 and we have shown it can be done.
"I am prepared to stop and help or disappear and let any new suitors get on with it.
"If an individual or a group of people fancy taking the club over, I welcome them to put their plans to me and they can acquire a club which is in excellent shape in contrast to others at our level, debt free, in fine shape financially and clearly poised to be able to go to the next level with relative ease."