Champions League final: Spanish football is already the winner
By Andy West
Spanish football writer
Last updated on .From the section European Football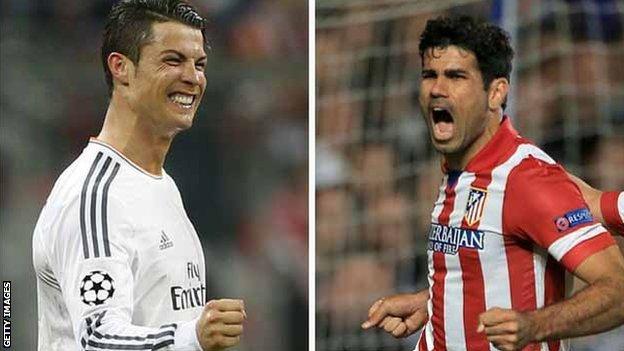 The build-up to the first Champions League final between two teams from the same city will whet the appetite with a host of fascinating storylines.
Real Madrid's need to replace the suspended Xabi Alonso; Cristiano Ronaldo returning to Lisbon; Gareth Bale aiming to end his first season in Spain with the ultimate prize; Atletico Madrid potentially completing a sensational double; Diego Simeone furthering his reputation as Europe's most in-demand manager; Diego Costa's bid for glory in possibly his last game for Atletico... there are enough sub-plots to fill a Shakespeare play.
As far as fans and media in Spain are concerned, however, one factor looms large above all others: 'La Decima' - the 10th.
Real Madrid, the most decorated club in Europe, have been marooned on nine European Cup and Champions League triumphs since a spectacular volley from Zinedine Zidane helped secure a 2-1 victory over Bayer Leverkusen at Hampden Park in 2002.

With every passing year, the intensity of Real's obsession with finally moving into double figures and reasserting themselves as the undisputed heavyweight champions of world football grows.
Although they occasionally attempt to play down the extent of that obsession, Real's response to Tuesday's astonishing 4-0 win over Bayern Munich said it all. Within seconds of the final whistle, the players were celebrating in front of their travelling fans wearing T-shirts emblazoned with the message: "A por la Decima" - go for the 10th.
For many Real fans, that they are playing against their cross-town rivals is almost incidental, with local bragging rights very much secondary to the opportunity of ending their 12-year wait for the near-mystical 10th title.
Atletico are approaching the final on 24 May with the opposite intention, fully aware they can attain unprecedented glory while wrecking the most cherished dreams of their bitter local rivals. For a football fan, what scenario could be more enticing?
Madrid's second club possess a very different history to their more illustrious neighbours. Although Atletico have twice won the Europa League in the last five seasons, the short trip to Lisbon will be only their second appearance in the final of the continent's primary tournament.
Their only previous final came against Bayern Munich in 1974 when legendary striker Luis Aragones, who later coached Spain to glory at the 2008 European Championship, appeared to have won the trophy with a goal six minutes from the end of extra time. But Bayern levelled seconds before the final whistle and romped the replay 4-0, leaving Atletico with a painful 'if only' memory.
The late Aragones is sure to be cited as an inspiration for Atletico between now and the final. As the leading scorer in the club's history, he further cemented his status by returning as manager on no less than four occasions, winning La Liga in 1977 as well as three Spanish cups.
His death on 1 February, at the age of 75, sparked a huge outpouring of emotion from Atletico fans who unfurled a plethora of banners in memory of their hero at the following day's home game against Real Sociedad. The club's website marked the team's 4-0 win, which sent Atletico to the top of the table for the first time this season, with a simple headline: "This is for you, Luis."
Aragones described his managerial philosophy in simple terms: "Ganar y ganar y ganar y volver a ganar y ganar" - win and win and win and come back to win and win again. That could also easily be the catchphrase of current boss Diego Simeone, and his much-loved predecessor's spirit will be regularly invoked by Atletico fans over the coming weeks.

Win again they might. Although Real have been installed as clear favourites by the bookmakers, Atletico have been more than their equals in the last year or so. Simeone's men beat Real in last May's Copa del Rey final at the Bernabeu, and claimed a victory and a draw from this season's two La Liga meetings.
By the time the final rolls around, Atletico could have sealed an improbable La Liga title - six points from their next two games against mid-table Levante and Malaga are all they need to secure the crown, making their final-day trip to Barcelona a joyous celebration rather than a nerve-jangling decider.
For now, though, the Spanish media is in a naturally jubilant mood as they look ahead to a Champions League final between their capital city's biggest two teams.
Thursday's headline in Madrid-based sport tabloid AS was "De Madrid Al Cielo" - a popular proverb which literally translates as "From Madrid to heaven", with the meaning that the capital is the closest place to heaven on earth.
Marca, the country's biggest-selling sports newspaper, hailed Atletico's performance as "a memorable lesson in football… and a Spanish champion!" while editor Emilio Contreras asked: "Does anyone doubt whose football leads Europe? It's Atletico's year, Madrid's dream final and the triumph of the best league in the continent." He did, however, lament Spain's football administration, which remains "light years from the Premier League and the Bundesliga".
Inevitably, the press has also taken the opportunity to rub salt into the wounds of their favourite pantomime villain, Jose Mourinho, gleefully pointing out that the Chelsea boss, after Wednesday's defeat by Atletico, has now suffered six Champions League semi-finals exits - more than any other coach - with Barcelona-based tabloid Sport headlining a gloating article: "Mourinho: the eternal semi-finalist."
But there is not much room for negativity. Real are preparing for their first European final in more than a decade, Atletico have exceeded all expectations to join them, and Spanish fans (with the notable exception of Barcelona supporters) are rejoicing in their country's dominance of the European scene - which is even more convincing when you add in another La Liga team - Sevilla - reaching the Europa League final.
Whether the showdown in Lisbon yields Real's 10th European crown or Atletico's first, there is already one clear winner: Spanish football.