Kevin Phillips: Leicester City aims to bow out with a goal
Last updated on .From the section Leicester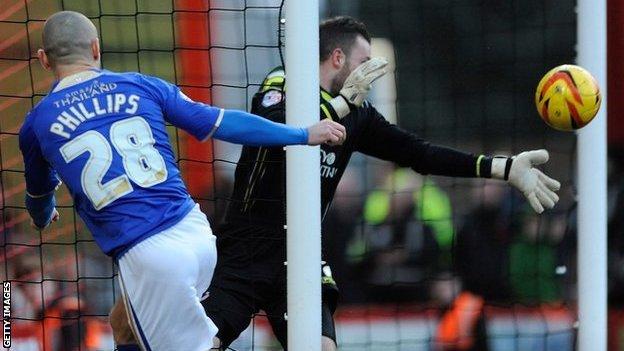 Veteran Leicester City striker Kevin Phillips says it would be perfect to finish his career with a goal when he plays his final game on Saturday.
Phillips, 40, is set to make his final appearance for his ninth club when the Championship title winners face Doncaster at the King Power Stadium.
"I am known as a goalscorer and I would love to feel that one more time," he told BBC Radio Leicester.
"There is no better feeling and that would be a great way to finish."
Phillips will take up a coaching role with City next season, but his exact role with the club's backroom staff is yet to be decided.
Before then he hopes to add to his 287 career goals on what he knows will be an emotional day.
"It's a bit of mixed emotions," Phillips said. "There's a little bit of relief because I have been thinking about it for a while. When I decided to release the news even my agent was still saying "Are you sure?"
"I thought about it at the end of last season after (scoring the winning goal in the Championship play-off for Crystal Palace at) Wembley, but being promoted again as champions is the perfect way to go out."
Phillips, who also played for Watford, Sunderland, Southampton, Aston Villa, West Bromwich Albion, Birmingham City, Blackpool and Crystal Palace, is Leicester's oldest ever outfield player and goalscorer, having set the record for oldest player to feature for Crystal Palace in the Premier League earlier this season as well.
He won eight caps for England and says representing his country was undoubtedly the high point of his 20-year professional career which started with Watford in 1994.
"Putting on the Three Lions, every kid of dreams of it and I managed to do it while still plying my trade in the old First Division. Certainly playing for England is the main highlight," he added.
Leicester manager Nigel Pearson has no doubt Phillips has the right qualities to become a good coach and manager.
"He will be a good go-between for the staff and players," Pearson said.
"He commands a lot of respect already and he will have a lot to offer the current group of players we have. I think he will be an excellent manager if he fancies going down that route."