Manchester United: Do not lose 'Class of 92' spirit - Louis Saha
Last updated on .From the section Man Utd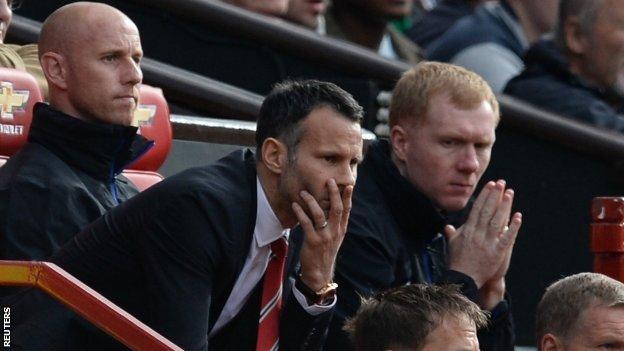 Former Manchester United striker Louis Saha has warned against damaging the spirit of the 'Class of 92'.
Yet there is no guarantee any of them will be around next season if Dutchman Louis van Gaal takes charge.
"If you lose those kind of players and that kind of spirit and charisma, it would be a shame," said Saha.
"After what happened with Sir Alex Ferguson's departure, you may lose out in the same way if they leave."
Along with former England captain David Beckham and current England coach Gary Neville, the current United coaching staff form one of the most decorated youth teams in English football.
So famous did they become, a film about them was released last year, with the same 'Class of 92' title by which they are collectively known.
Yet Frenchman Saha, who scored 42 goals in 124 appearances for United in a four-year spell from 2004 to 2008, feels there is more to their overall contribution that mere ability.
"This is the spirit of Manchester United," said Saha, speaking at the launch of the Soccerex football conference that will be held in Manchester in September.
"As a foreigner coming in, I saw the way they acted and how they were dedicated to the cause of the club. It made me realise what the size of the club was."
Even if Van Gaal arrived and decided to keep Giggs, the status of Butt, Scholes and Neville is less certain.
It is a situation Saha believes executive vice-chairman Ed Woodward must handle delicately.
"You have to make a choice, there is no in between," said the 35-year-old former Fulham and Everton man.
"If you pick someone, you can't force him to take a number two and number three. You have to accept the way they work. This is hard."