Premier League title race: How to cope with 'squeaky bum' time

By Tom Fordyce
Chief sports writer
Last updated on .From the section Football471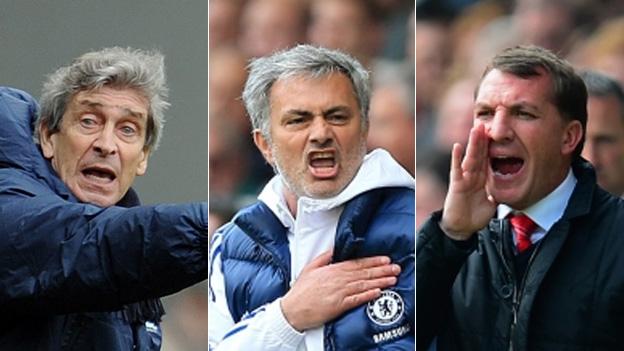 Two weeks, three teams, one Premier League title.
It is the time of reckoning, of chest-squeezing tension, the fortnight when, in the famous words of Sir Alex Ferguson, bums squeak and championships are decided.
For players, coaches and impotent supporters, it is the best and worst of times. The title is within reach, but it is not yet yours. A single slip can scupper a season. A moment of inspiration can salvage it when all seems lost.
"It's as if the trophy is actually there in front of you," says Nigel Winterburn, veteran of Arsenal titles won by the narrowest margin in history and lost by a single point. "You can visualise it. But you're reaching out to touch it, and your hands just go straight through it. There's nothing there."
How to survive the suffocation? How to pilot a team through the hidden rocks and whirlpools that can drag them down? How to keep ahead when all around dread losing games?
"Every human being operates on a line between fear and ambition," says Rene Meulensteen, first-team coach at Manchester United when they won the Premier League in 2009, 2011 and 2013.
"You, me, players - you'll always be torn between what we want and fear of what might happen when we try. In football, fear is what you don't want.
"If it takes the upper hand - 'We don't want to lose, we don't want to make mistakes, we don't want to do this or that' - you are hitting the wrong buttons and creating the wrong mindset. As a coach, you must make it: 'This is what we want. This is how we will do it'.
"Make sure the players can see that they have the attributes to achieve those ambitions, and create the circumstances to flourish: work hard, be disciplined, be prepared, help each other, communicate."
Relish the nerves
The unparalleled pressures of the season's crescendo can work a cruel spell. Strong men fold. Errors beset the imperturbable. The unflappable flap.
How to see off sleepless nights? How to cope when every time you leave your house or look at Twitter you see nothing but giddy fans and title talk?
"It's critical that you think of it as a good pressure," says Winterburn, title winner four times with Arsenal in nine years.

"You're going for the title. It's exactly where you want to be. It's what you're working for every single day - to be close to the championship. You don't even think about failing.
"You hear it all the time from the supporters, and you're aware of all the excitement and expectation. But you can only influence what is directly in front of you.
"I would try to imagine before kick-off how I wanted to perform, how I saw the team playing. You are predicting a positive performance from you and a positive outcome for the team. Relish the nerves."
Little team talks
For the coach, unable to exert a direct influence on the pitch, it is time to mutate into an unbreakable amalgam of tactician, psychologist, analyst and leader.
"Every player will feel the pressure, whether it's through social media or the newspapers or fans they meet, so it's important that you are the leveller," says Meulensteen.
"Put it into perspective for them. 'How relevant are these pressures? Can they be an influence?' Let's have a good look at where we are, and what we are about to do. Let's focus on what can make a real difference.
"We can't get rid of the expectation, so let's deal with it - and the best way to deal with it is making sure that you are entirely focused on your own performance. Everything else is just a distraction. It only becomes a problem when you let it affect you.
"A coach needs to get groups together on a training ground and have these little team talks. They don't need to be long, but you want to be the one setting the tone - not people on social media, not television. It's a critical job for a coach."
Learn to enjoy pressure
Meulensteen, a logical man, is not one for trusting fate nor relying on a miracle from an inspired individual.
You can plan for tension; you can predict tight finishes. Faced with a brutal examination, you can do your homework and be prepared for every question you might be asked.
"Against Chelsea last Sunday, Liverpool got stage-fright," he says. "Even the fans had it. Whereas it should have been, keep your composure, keep moving the ball about with quality, keep doing what you would ordinarily do.
"Players need to learn to enjoy pressure. They need to learn to enjoy getting it right. When you need a goal to win a critical game, it shouldn't be huff and puff. It should be, this is what we need to do. These are the balls we need to play. And that comes down to preparation. You play your cards, and you play them at the right time.

"It is not luck. It is a quality. You work on it in training. We would set up a practice game up and say to the players, you are 2-1 down and there are 10 minutes to go, and you have to win. Okay. Now you have five minutes. Now you have three.
"With 10 minutes to go, you should be able to get at least six balls into the box. Five minutes, maybe four. Train the players to cope with that, to deliver the quality under pressure. If you just lift the ball into the box, that won't get you anywhere. Think about the pass.
"Look at the clock. Don't fear it. If it shows 82 minutes, that gives you eight minutes plus four in added time. 12 minutes. In that time, you should get at least seven quality balls into the box. And one of them should lead to a goal."
When Arsenal won the Premier League in 1998, en route to their first double since 1971, they were nine points behind Manchester United with less than two months of the season to go. Yet they would end up sealing the title with two games in hand, a scrap that became a sprint that ended as a stroll.
"You have to have belief," says Winterburn. "We did, and we had the big characters to drag us through difficult periods in an individual match.
"That mental strength is critical. If you don't believe you can get across the finish line, why should anyone else?"
Stricken in the stands - look away now
The players and coaches are in some ways the fortunate ones. It is the supporters who are lost in the most invidious position of all: tied at the deepest emotional level to the fortune of their team, yet powerless to do anything about it.
"I'm not a good watcher," admits Karolyn Judge, a Manchester City season ticket holder since the age of 15, a tormented bystander during this year's title see-saws.
"I'll put my head down if the other team look they're going to score. I can't watch. When we're at home, it's not even down to what's happening on the pitch. It's people around you panicking. I subconsciously feed off that. It makes me panic.
Race for the Premier League title

Liverpool

Chelsea

Man City

Mon 5 May:Crystal Palace (a)

Sun 4 May:Norwich (h)

Sat 3 May:Everton (a)

Wed 7 May:Aston Villa (h)

Sun 11 May:Newcastle (h)

Sun 11 May:Cardiff (a)

Sun 11 May:West Ham (h)
"I would never say that I would walk out. I've been around people who have done that; it happened in the Division Two play-off final in 1999 (when City were 2-0 down to Gillingham in the 90th minute, before scoring twice in added time and then winning on penalties).
"I could never do that. You have to stay until the last moment, even if you're hating every minute. But is hard to sit there. It would be an easier option to get the tram home.
"I'm desperately hoping Everton will take it easy against us on Saturday, and that is completely irrational. It's not really coping."
Control your reaction - punch a teddy-bear
City are the lucky ones. What of Liverpool fans, convinced until a week ago that their 24-year title drought was over, or Chelsea supporters who have seen both Premier League and Champions League slip away from them in the past few weeks? How to cope when nails have been bitten away and nerves can take no more?
"You can't control the external event, but you can control your reaction to it," advises Phillip Hodson, fellow of the British Association for Counselling and Psychotherapy.
"One of the easiest ways of doing that is to take some fairly vigorous physical exercise before the match. That will make you tired, change your breathing, make you hot and then cool down, and that takes you into the phase of relaxation.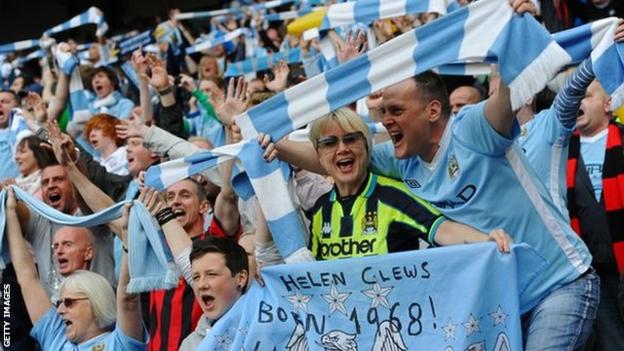 "If that's impossible, you can do it very simply if you clench your fists and squeeze all the muscles in your arms and shoulders as hard as you can for about three seconds, and then let go."
Dr Michael Reddy, clinical psychologist and self-confessed rabid football fan, suggests enlisting the help of friends and family ("Let them know that telling you it doesn't matter, or that there's always next year, doesn't help in the slightest") and expelling the tension in unconventional fashion.
"It won't look particularly clever when you're sitting next to a whole bunch of other fans, but you could take a pillow with you to punch the life out of, or one of your kid's teddy-bears," he says.
"Have an elastic band on your wrist that you can snap when you're going OTT. That can bring you back down again. And minimise alcohol, because it is a disinhibitor. You'll find it harder to control your behaviour. Promise yourself that you'll get properly drunk later as a reward."
Experience counts. Big players step up
Three wins for City will give them their second Premier League crown in two years. A draw in one and Liverpool will be back in. Should both drop points, Chelsea could yet sneak in.
Points required to win the title

Liverpool

Chelsea

Man City

Six, although if Man City win their three matches, City will almost certainly take the title on goal difference.

Six and both Liverpool and Man City losing one of their remaining games.

Nine will almost certainly secure the title on goal difference regardless of other teams. They could win it with seven points if Liverpool fail to win one of their games.
Those are the numbers. But what will make them add up?
"The decisive thing for me is that Liverpool haven't won the title for 24 years, so they have no experience of winning it," says Meulensteen.
"I've been in an environment where the manager, coaches and players have all been there, and it counts. We always had an answer when the questions came.
"Through my time, Gary Neville, Ryan Giggs, Paul Scholes and Edwin van der Saar were instrumental. The first three were the heartbeat of Manchester United. They had won championships with Steve Bruce, Roy Keane and Peter Schmeichel as the figureheads; now they had to take the mantle on, and they did.
"Ronaldo too grew into a critical role very early. He knew how important he was, and the responsibilities that brought. In the last year, it was Robin van Persie, who came from Arsenal very determined to win the league for the first time, and that rubbed off on the other players.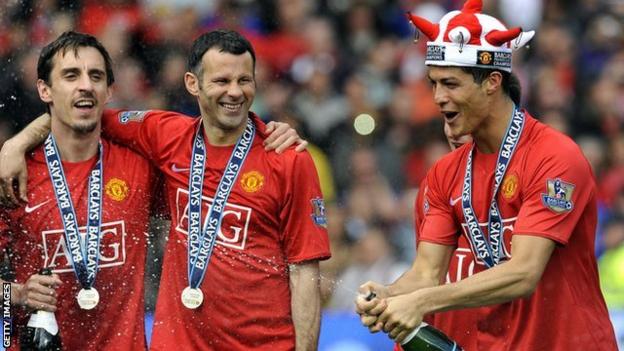 "You go from one competition to the next, knowing that you will most likely be involved to the end. And that creates a certain culture. You don't get excited by 'if' or 'what about…'It's more, 'Let's see if we can pull this one off. If not, on to the next one - let's see if we can pull that one off.'"
"If you've been there before, you understand that you'll have periods where it won't go for you, and you don't let that concern you," says Winterburn.
"You understand that you focus on the now rather than what might be ahead. Make sure your belief is strong enough to execute what you're trying to achieve.
"Stay in control. You hear some players saying how it's great to come from behind in the race. I just don't buy into that. You want to be at the top, controlling for as long as possible what's going on. You keep rolling out results, the others will falter. And that plays into City's hands."
Should City beat Everton on Saturday, they have only nose-diving Aston Villa and West Ham left in their way. It should be straightforward. Then again, it should have been straightforward two years ago, when only a win over relegation-threatened QPR was required. And we all know what happened then.
"Brendan Rodgers has done a fantastic job across the season at Liverpool," says Meulensteen. "He's done well to keep his players focused on the one game ahead. But it's going to be hard now.
"When you've had the title taken out of your hands, as City have, and you then have it given back, you don't slip up a second time. It gives you so much energy, as you could see in their performance against Crystal Palace. I would be very surprised if City don't win against Everton.
"These are the weeks when champions are made. The best players step up. And that little extra in each player adds up to a massive difference across the team."