Juan Cala: Cardiff City defender requests personal hearing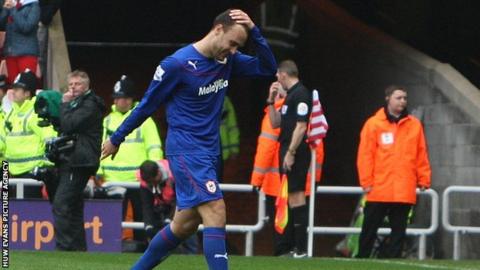 Cardiff City's Juan Cala has requested a personal hearing with the Football Association after being charged with misconduct.
It follows an alleged incident in or around the tunnel following the 4-0 defeat at Sunderland.
The Spaniard, 24, had earlier been sent off for a professional foul on Connor Wickham.
"Juan Cala has requested a personal hearing... the date to be confirmed," Cardiff said.
Cala was shown a red card by referee Phil Dowd for pulling back Wickham as the Sunderland striker looked to get clear on goal.
The centre-back is then alleged to have been involved in an incident as he went down the tunnel at the Stadium of Light.
Having already been set to serve a suspension for Saturday's Premier League match at Newcastle, should the charge be proven Cala would also miss the final game of the season, at home to Chelsea.
Cardiff are currently bottom of the table and could be relegated if other results go against them.