Hearts: Locke in, or Locke out, after Ann Budge takes keys?

By Tom English
BBC Scotland
Last updated on .From the section Hearts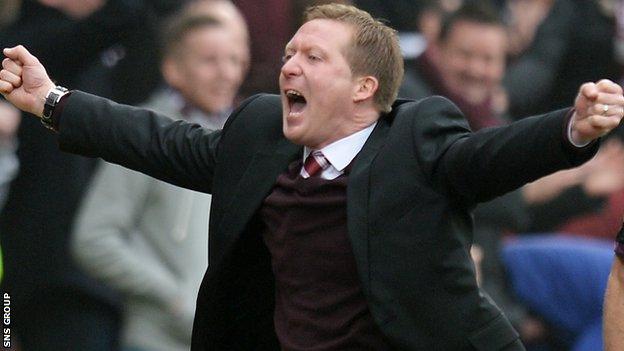 Hearts have a chaplain and his nickname is Charlie.
He's a Crystal Palace fan, a shaven-headed 27-year-old trapped in the body of a 14-year-old. He's called Andy Prime and he's been a little oasis of tranquillity in what has been the most turbulent season in the Tynecastle club's history.
Vladimir Romanov, the former owner and, if you will, the Great Dictator, abandoned ship while his banking business went down. Creditors got stiffed. A football club was left to twist in the breeze.
Administration has been followed by relegation. Blow has followed blow. The football has been incidental for the longest time. All the great battles in Hearts' season have involved lawyers and administrators locking horns in Lithuanian courtrooms.
A Dog's Life, indeed.
Gary Locke paid tribute to his backroom men on Thursday, men like Charlie the chaplain who have helped maintain morale and kept spirits high during a campaign of fear and uncertainty.
It's almost over now. The end of the beginning. Hearts will soon come out of administration and will be able to build again.
But you have to wonder who is going to be sitting in the manager's office when it happens.
Will it be Locke or somebody else?
This is a dilemma for the club's incoming chairwoman, Ann Budge, and the wider support. She has said little or nothing on the matter so far. In the guessing game you can read her reticence as a sign of her coolness on Locke carrying on in the main job.
Maybe that's unfair on her, but if she was sold on the incumbent then wouldn't she have let it be known by now?
The name of Craig Levein is never far away from this discussion. He is looking on from the shadows.
Without a job in management since being sacked as Scotland head coach in November 2012, he has been written about as Hearts manager in waiting, the guy the club needs in order to put it up to Rangers in the Championship next season. Locke, so one narrative goes, is too inexperienced for the gig. Hearts need a boss who has been around the block.
There is a football argument and a human argument in all of this. Locke hasn't just been Hearts' manager this season, he has been an ambassador, a counsellor, a child-minder and a chief bottle washer. With a transfer embargo in place, he has had to make do with a coltish squad, most of them learning on the job and some of them clearly not good enough for much of the season.
They have improved, though. Locke's coaching has had an impact, no question.
To Locke, the word rotation has a different meaning. Rotation is what happened to his senses when he tried to get his head around the scarcity of his options.
When his young team got battered, he had little choice but to send most of them back out there again the following week. When injuries and suspensions hit, the team was so immature that you feared for them at times.
Occasionally, it got ugly.
Locke has shown immense character. And he looks to have bred that into many of his players. When the side lost game after game, he was big and strong in the face of the flak. When he woke up one morning to find Levein being trumpeted by newspapers as the next Hearts manager, he took it on the chin and carried on.
Plenty might question his managerial savvy, but nobody can question his moral fibre. He's had to be a tough cookie this season.
And it's a season that's ending in a way that nobody expected. Not the relegation. Everybody could see that a mile off. No. Hearts are on a winning run that few could see coming a little while ago. They have tormented Hibs in back-to-back games, beating them on both occasions and hauling them into the relegation mire.
Locke's team played four Premiership matches in April. They won three and drew the other. That's manager of the month stuff.
Nuances exist all over the place, of course. The Hearts fans who want change will point to the fact that the team only started winning after their relegation was sealed. In other words, the pressure was off and the players could freewheel. When the season was alive, they were not at the races. That's the gist.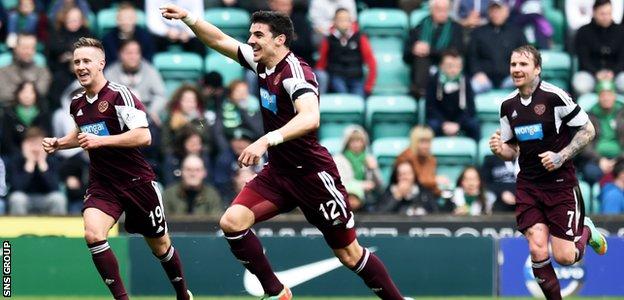 They might also view this run of victories - four in their last five games - as proof that the team was good enough to survive the 15-point deduction if only the manager had got it together earlier in the season. That might be an unforgiving and overly simplistic way of looking at things, but this is a brutal world we're talking about.
Through all of this, there is admiration and appreciation for what Locke has done as the glue that held things together in chaotic times. Even those who would rather have Levein - or somebody with similar experience - would salute the current manager.
You'd like to think that Budge will afford Locke some extra-time. You'd like to think that there will be an acknowledgement that he has operated in abnormal circumstances and deserves the opportunity to show what he's got when the club becomes stable.
Locke might be a rookie, but he's not a romantic. He knows that it might not end this way. He knows that sentiment in football management is about as commonplace as the dodo bird. As he has said a hundred times, he can do nothing about that.
Clarity will come soon enough. Whether he stays or whether he goes, he can hold his head up high.