Cardiff City: Solskjaer defends Zaha against Shearer criticism
Last updated on .From the section Football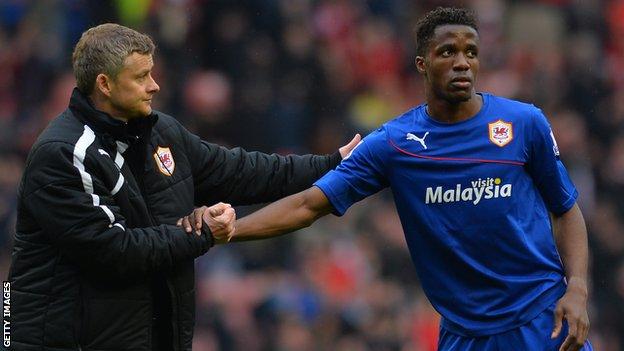 Cardiff boss Ole Gunnar Solskjaer says Wilfred Zaha has been "hurt" by Alan Shearer's criticism after Cardiff's recent loss to Sunderland.
The 21-year-old England international is at Cardiff on loan from Manchester United until the end of the season.
Shearer felt Zaha lacked effort in the 2-0 defeat at the Stadium of Light, but Solskjaer defended his player.
"Being singled out like that hurts, because I don't think it's fair," said the former United striker.
'Wilf is a young player; this is the first time he's in the Premier League.
"If he [Shearer] wanted to, or if anyone wanted, they could have highlighted two or three things that Wilf did great."
Former England international Shearer made his comments on Match of the Day 2.
The former England striker - who was linked with the manager's job at Cardiff City following the departure of Dave Jones in 2011 - criticised what he felt was Zaha's poor workrate.
"I'd be slightly concerned with what I saw from Wilfried Zaha," he said.
"He had to do more for me when he came on."
Cardiff were trailing 2-0 and down to 10-men when Zaha made his entry against the Black Cats.
'[He's] come on, 10 men, and he's ran more than anyone else in that half," said Solkjaer.
The Norwegian also praised Zaha's efforts to improve off the pitch.
"My apartment overlooks the training ground and on Thursday, five, six o'clock, he is there again, training, finishing," said Solskjaer.
"He is just a boy who wants to play football, wants to do his best, wants to improve.
"I think he will have a very good career, wherever he plays."
That is unlikely to be at Cardiff, who face a mountainous task to avoid relegation from the Premier League.
They lie bottom of the table with two games remaining, and have to beat Newcastle at St James' Park, before facing Chelsea at home in the final game of the season on 11 May.