Ferrie Bodde: Ex-Swansea midfielder 'happy to be alive'
Last updated on .From the section Football
Ferrie Bodde has told former club Swansea City he is "just happy to be alive" as he thanked club and fans for their support while he was in an induced coma to combat pneumonia.
The 31-year-old told the club's official website: "I'm just happy to be alive at the moment. It's been tough.
"But the support I've had has made me fight like a lion. No, that's wrong, more like fight like a Swan."
Ex-midfielder Bodde wore number six at Liberty Stadium during a stint peppered by injury.
And six minutes into their 2-1 win over Villa, the club's electronic scoreboard bore Bodde's name and the legend "Once A Jack, Always A Jack".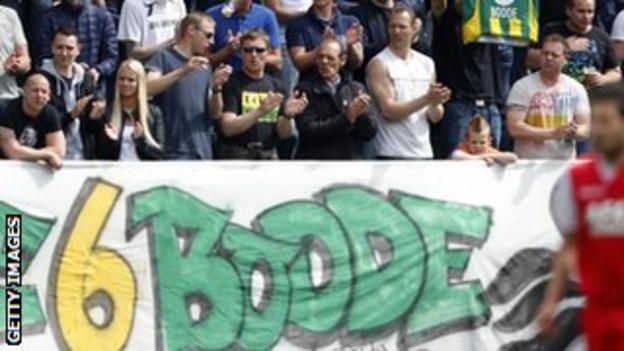 Fans reacted with a minute's applause and chants of Dutchman Bodde's name, which he watched from his hospital bed in the Netherlands.
"The club, players and supporters mean so much to me," Bodde said.
"What they did during the game was unbelievable and I will be eternally grateful.
"The support has been amazing and I just wish I could thank everyone personally, but I know that's impossible."
He added: "I was awake on Saturday during the game, but if I'm honest I wasn't really with it.
"But I saw all the footage on the Sunday and it was really emotional. I had goose bumps everywhere.
"As soon as I'm strong enough I am coming to Swansea to see everyone. That's a promise.''
Fans of another of Bodde's former clubs, ADO Den Haag, also observed a minute's applause for him before their Dutch Eredivisie match against AZ Alkmaar.
Bodde is head coach of Dutch amateur club SV Wateringse Veld after being forced into retirement by injuries.
He joined the Swans under then-manager Roberto Martinez in June 2007 from Den Haag for an initial £50,000, and left in July 2012 after suffering three cruciate knee ligament injuries during his time at Liberty Stadium.
Between November 2008 and his departure, Bodde played only four first-team games for the Swans.
As he left the club, chairman Huw Jenkins said of the player: "He would have been one of the best players in the Championship and probably one of the best in the Premier League barring the injuries."
His displays attracted interest from Derby County, Middlesbrough and Reading, while in subsequent seasons Swansea had to fend off bids from Wigan Athletic and Bolton Wanderers.
After leaving the Swans, he attempted in vain to resurrect his career at Wigan and Den Haag.