Celtic manager Neil Lennon expects player turnover
Last updated on .From the section Celtic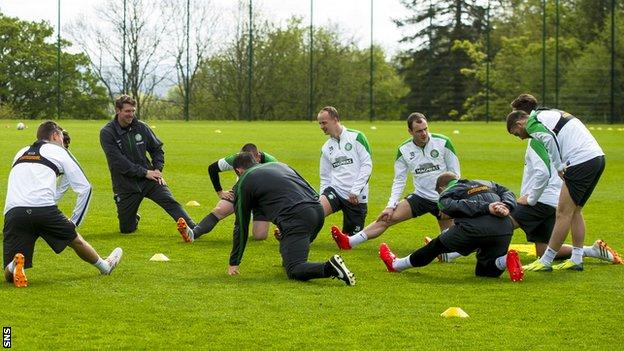 Celtic manager Neil Lennon admits he expects "a bit of a turnover" of players in his squad this summer.
Lennon lost key players Gary Hooper, Victor Wanyama and Kelvin Wilson at the beginning of the current campaign and is bracing himself for more rebuilding.
The Scottish champions face two qualifying rounds and a play-off if they are to have a third successive Champions League group stage campaign.
"It's always a worry," Lennon said of the possibility of losing players.
"We're working very hard in the background trying to identify players that seem to fit.
"We're nowhere near down the line in terms of signings or talking to players but we're keeping an eye on one or two.
"Ideally you'd always like to get it done before the World Cup because then things can get out of control if they go to the World Cup. We hope to go to Brazil and look at some targets there as well.
"Sometimes things surprise you. The Kelvin Wilson thing (the defender's return to Nottingham Forest) came out of left field last year so you have to be prepared for that. I think there might be a bit of a turnover in terms of players this year."
One player who has been heavily linked with a move away from Celtic Park is England goalkeeper Fraser Forster.
Lukasz Zaluska has deputised for Forster only once this season but the Pole is expected to start against St Johnstone on Wednesday evening.
"We have a list of goalkeepers that we have our eye on but Lukasz can certainly deputise," said Lennon.
"If Fraser were to go, would we look to bring another goalkeeper in? Certainly we would, whether it's a number one or a number two."
And Lennon, who hopes to have new players signed up by 24 June in plenty of time for European qualifiers, says there has been "no further movement" on Georgios Samaras's situation, with the Greek striker out of contract at the end of the season.
Meanwhile, Lennon insists Leigh Griffiths and Anthony Stokes "are not bad boys".
Griffiths is currently the subject of police, Celtic and Scottish FA investigations into allegations of offensive singing at a recent Hibernian match he attended while fellow striker Stokes' behaviour during a recent visit to a Belfast bar is being looked at by the club.
"Sometimes I think these stories are blown way out of proportion," said Lennon.
"They are a bit loose sometimes but I like that in their personalities, as long as we can channel it in the right directions.
"There is a code of conduct that they have to adhere to and that will come with experience and maturity.
"They are both playing very well but I am not using that as an excuse not to punish them, obviously if I feel the need to punish them then I will."