Ryan Giggs: Man Utd winger was a 'unique freak'
Last updated on .From the section Man Utd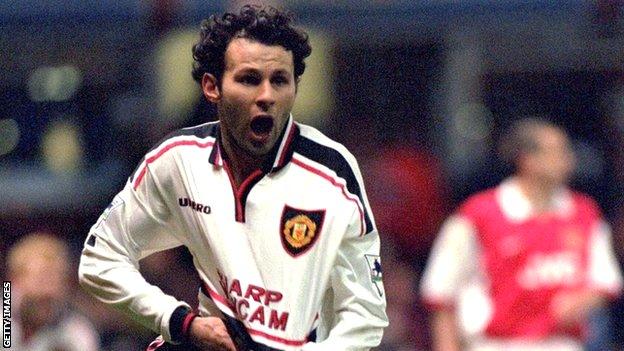 Sir Alex Ferguson will never forget the first time he saw Ryan Giggs.
He chronicled the occasion, at Manchester United's old first-team training ground the Cliff, in his first autobiography Managing My Life.
"He was 13 and just floated over the ground like a cocker spaniel chasing a piece of silver paper in the wind," Ferguson enthused.
Fast forward 26 years. Ferguson's language was no longer evocative.
On Giggs, who retired as a player on Monday to become assistant to new Manchester United boss Louis van Gaal, he was blunt and to the point.
"He's a unique freak," said the Scot.
Not for the first time, Ferguson got it spot on.
When he assessed the contribution of a scrawny little lad from Cardiff, who had moved north as a kid when his rugby league-playing father signed for Swinton, Ferguson was watching the grace and balance of a footballer for whom changing direction at maximum speed was no hardship.
Giggs will be remembered chiefly for the goal he scored against Arsenal at Villa Park in 1999, which booked a place in the final en route to that historic Treble and was recently voted the best in the history of the FA Cup.
Yet the goal itself was no real surprise.
By that point, he had already been skipping past defenders for eight years in the manner he left Martin Keown and Lee Dixon for dead that night.
But by the time Ferguson offered his revised assessment of Giggs, the Welshman's role had changed to that of a midfield schemer.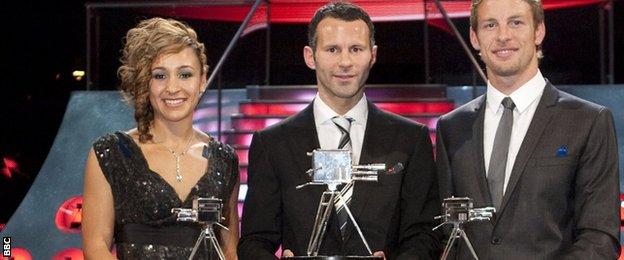 More significantly, he had amassed a medal collection it is impossible to imagine anyone ever getting close to.
Thirteen Premier League titles, two Champions Leagues, four FA Cups and three League Cups take pride of place in a bulging trophy cabinet. He made 963 appearances for the club and scored 168 goals.
To put those achievements in context, England midfielder Frank Lampard is widely considered to be one of the best players in Chelsea's greatest ever team. He has won the league on three occasions.
To put them into even starker relief, Giggs is level with Arsenal in terms of championships won. Only Liverpool and Manchester United themselves have more English titles.
That is not to say Giggs is perfect.
Indeed, there was a period in 2003 when United's fans seemed to have fallen out of love with him.
During a League Cup semi-final against Blackburn, Giggs was booed off after the latest in a series of below-par performances. Talk of a move to Inter Milan persisted.
Typically, he responded with another of those amazing goals that litter his portfolio, this one against Juventus in the Stadio delle Alpi.
Nevertheless, beset by hamstring injuries, it remains the period of greatest uncertainty in Giggs's career, even if he never actually came close to heading for the exit.
"It was never a consideration to leave," he said in 2009.
"I was linked with a few clubs but it was never really close. Why would I think about it when I was always happy here?"
Manchester United do not represent Giggs's entire career.
He played for England Schoolboys as a youngster but, contrary to popular belief, was never eligible to play for England.
He made 64 appearances for Wales - famously missing 18 consecutive friendlies before he actually played in one - but the nearest he got to qualification for a major tournament was the 1994 World Cup, when Paul Bodin belted a penalty against the bar that would have given Wales the lead in a must-win match against Romania.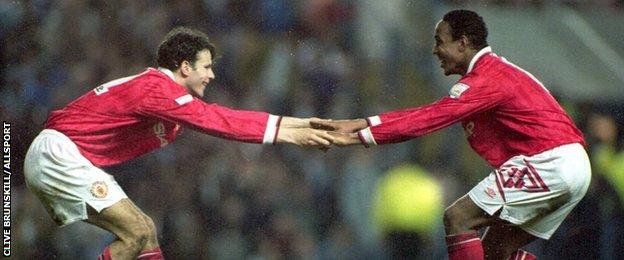 Giggs finally got to experience tournament football at the London Olympics in 2012.
A valuable experience it turned out to be, too, as he helped manager Stuart Pearce out with some coaching of a squad that was eventually eliminated in the quarter-finals on penalties.
More recently has been an initial involvement at Evo-Stik First Division North outfit Salford City.
However, mention Giggs and the images are of those distinctive red shirts and the badge he has worn so often it might as well be seared into that hairy chest.
The most remarkable thing of all was that, until a few years ago, Giggs seemed totally unaffected by the adulation, the spotlight and the fame.
Speaking to him after matches, when he occasionally stopped whilst still shivering from the after-effects of an ice-bath, or quickly before a game to fit in with the yoga regime credited with clearing up those long-standing hamstring issues, Giggs seemed so normal.
The aura was shattered by well-documented allegations about his private life, which forced Giggs into his shell for an extensive period, when he refused to carry out any in-depth interviews, bruised and battered as he was by such private matters being aired in public.
Those issues have been dealt with now. The polite, personable Giggs is back.
When Ryan Giggs made his debut John Major was prime minister, the first George Bush was president of the United States.
The United great is a footballer from another era - an era that ended on Monday.