Shaun Derry: Notts County boss available for selection next term
Last updated on .From the section Notts County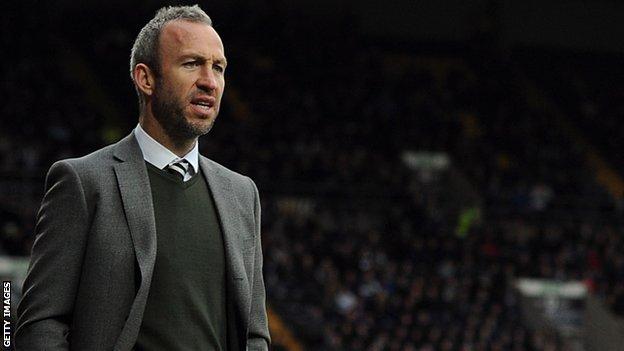 Notts County boss Shaun Derry is ready to extend his playing career and turn out for the club next season.
Having already played for both clubs, he was ineligible to feature for Notts as they battled to avoid relegation but never officially retired as a player.
"I'll be available, ready for selection next season," he told BBC Sport.
However, Derry is looking to make enough shrewd transfer deals during the summer to allow him to focus primarily on his new career.
"I am hoping that I will get the right type of players in to enable me to just to be the manager. If I'm stood on the sideline that means I'm quite happy with the team I've got out there," he said.
"I don't feel you can do the job that is required by being one of the 11 lads playing."
Derry, who started his career as a trainee with Notts, returned to Meadow Lane with the club bottom of League One and guided them to safety on the final day of the season at Oldham Athletic.
The former Sheffield United, Leeds, Crystal Palace and Queens Park Rangers midfielder and his assistant Greg Abbott have already begun reshaping the squad for next term, offering six players, including captain Alan Sheehan and striker Jimmy Spencer, new deals, while releasing 10 others.
"I want us to consistently improve and for us to be more of a group, a strongly bonded group, rather than a fragmented group like I walked into in November," said Derry.
"I will be heartbroken if I get the wrong type of people into the building next year."
Derry heaped praise on former Huddersfield man Spencer, who scored five goals in 13 starts after joining the club as a free agent in February, for his influence on their remarkable late season run, which included six wins in eight matches.
"He enabled us to have a platform, and base a certain style of play around him. He hit form from day one and was a huge signing for us," he said.
"We managed to strike relationships in vital areas. Hayden Mullins, as an out-and-out centre-half really settled us down along with Alan Sheehan, who was immense since day one.
"We had some life in midfield; Curtis Thompson being able to play the last four or five games really gave us energy in a midfield which I felt had struggled at times since November.
"Then look at the individual performers like Jamal Campbell-Ryce and Jack Grealish, they gave us that something extra that other teams did not have."