Ross County 'take stock' after relegation scare, says chairman
Last updated on .From the section Ross County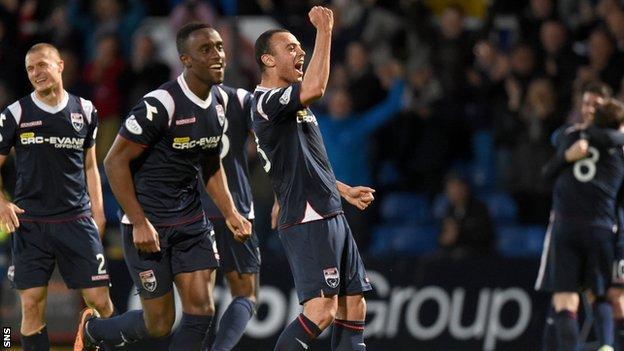 Ross County chairman Roy McGregor says the Dingwall club face some soul searching despite having secured a third season in Scotland's top flight.
Tuesday's 1-0 win over Hibernian made sure that County would avoid finishing second bottom and facing a play-off.
"We need to have a sit down in the cold light of day after this weekend's match to see what we've got right and wrong in the two years," said McGregor.
"And to take stock and try to get a strategy that works from the kick-off."
McGregor was referring to the fact that, two seasons running, it has required major squad restructuring in January by manager Derek Adams to turn around the side's fortunes.
But the chairman insisted that County had not dispensed with their financial prudence to do so.
"The player wages as a proportion of turnover is less than 40% and that's a great achievement," he told BBC Scotland.
"People say we took players in at Christmas and bust the bank - we didn't. We let six go and we were very fortunate that we were able to get loan players at no greater cost than the ones we put out.
"So having a player wages budget less than 40% of our turnover is where we want to be and we would like it to be a bit more and we'll have to look at that in the coming season."
McGregor had sided with St Mirren last summer in voting down a proposal that would have led to the new Premiership splitting into two sections midway through the season.
He did not regret the decision to back the alternative - a play-off involving the team finishing second bottom against a side from the Championship - even though County found themselves among five teams scrapping for survival.
"The fact that it's turned out that there's great interest at the bottom of the league has been vindication," said McGregor.
"Everyone's got value for money and it is going to the last game of the season. Maybe seasons before, the issues would have been sorted and there would be nothing to play for.
"I think it's great for the fan, good for entertainment and good for Scottish football."
McGregor thought that County were an example to many provincial clubs on how to build prudently towards success.
"That a small club from my part of the world could, 20 years after coming into the league, be playing for the third time in the Premier League is still amazing to me and should be an encouragement to other clubs, part-time clubs and clubs with ambition, that if you actually put your mind to it and you get the right strategy and you understand the finance of this business, you can make a go of it," he added.
"When we came from the Highland League, we had 250 fans, season-ticket holders, and we've got our season-ticket holders up to 10 times that number and we spent six years doing that.
"We spent the next six years building an academy and we could not have been a full-time club if we did not have that.
"I find it really strange that some of the clubs, especially in the First Division these days, that I would call city clubs have difficulty taking in fans and I'm not sure they are engaging with their communities."