Gus Poyet: Sunderland boss believes in miracles after survival
Last updated on .From the section Football
Sunderland manager Gus Poyet says he "will start believing in miracles" after his side's "incredible" escape from Premier League relegation.
"It's been difficult," said Poyet, 46, whose side have won four in a row.
"I don't know if you will see something similar ever. It's one of the best days of my life."
Poyet said Sunderland needed a miracle after their 5-1 defeat at Tottenham on 7 April, a result followed by a 1-0 loss against Everton.
Since then, his side have drawn at leaders Manchester City, won at Chelsea and Manchester United, then seen off relegation rivals Cardiff and West Brom at the Stadium of Light.
The run - the "best five weeks" Poyet says he has ever had - ensures they become only the second team to avoid the drop after being bottom on Christmas Day, following in the footsteps of West Brom in 2005.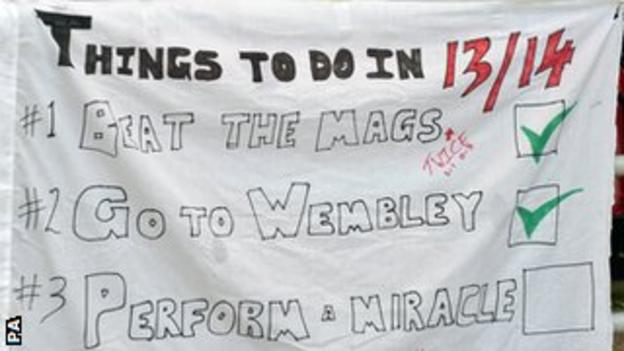 "For moments, it looked like we were going down," added Poyet, who was sacked from his last role at Brighton.
"It's football, it's miracles, it's something unique. The connection between the players on the pitch in the last few games and with the fans means there is only one result: winning football games."
Poyet took charge of Sunderland in October 2013 after the sacking of Paolo Di Canio, becoming the club's sixth manager in less than five years and inheriting a side bottom of the table.
Form improved under the Uruguayan but, after a League Cup final defeat by Manchester City in March, a six-game winless run left the Black Cats seven points from safety with just six games to play.
Poyet admitted: "Can I go another year like these seven months? No. I'm strong, but I don't want to die. I don't want to have a heart-attack. I don't want to lose any more hair than I have lost already.
"We don't want to go down, so we need to make sure that we don't make the same mistakes that we have been making for the last two or three years."