FA commission: B team league not on agenda, says Danny Mills
Last updated on .From the section Football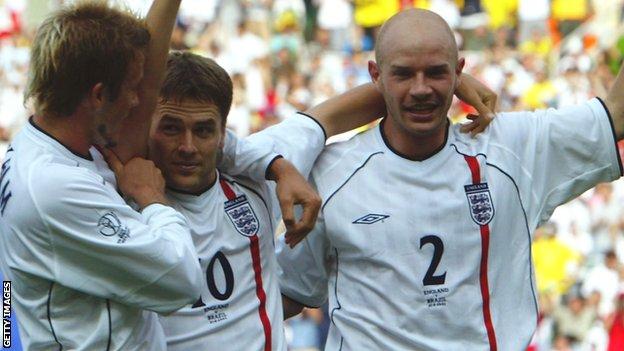 Football Association commission member Danny Mills says a B team league is not part of plans to improve English football.
FA chairman Greg Dyke will reveal on Thursday the findings of an "exhaustive" review aimed at boosting the fortunes of the national team.
The body, which has conducted about 650 interviews in England and abroad, will present the results at 14:00 BST.
"B teams are on the agenda but not a B team league," Mills told Radio 5 live.
Reports earlier this week suggested the commission was planning a B team league between League Two and the Conference.
But 36-year-old Mills, who won 19 England caps and played 321 club games in a professional career that ended in 2008, said some of the stories were "irresponsible".
Gary Sweet, chief executive of new Conference champions Luton Town and a Conference board member, said of the reports: "These proposals would completely kill English football as we know it."
But former Leeds United and Manchester City right-back Mills added: "We have spoken to everybody involved who this affects.
"Do you really think we would come to the table with a proposal that hadn't been discussed with the Premier League, the Football League and the Conference?
"We have looked into Europe and every major league has some sort of structure of B teams within the league. They can't all be wrong."
The FA commission aims to improve four main areas in the English game - the loan system, work permits, league structure and grassroots facilities.
"This is effectively a four-pronged attack on what we believe is the way forward for English football," said Mills. "All four prongs have to work together. If you take one away, it doesn't work.
"It's multi-faceted, there are lots of different nuances and the report will come out anywhere between 70-100 pages long. It is very detailed.
"This is about the player pathways and opportunities between the ages of 17 and 21 or 22.
"Grassroots is vitally important but we simply have not had the time to get into the detail. We know what the problems are."