Albion Rovers introduce 'pay what you can' season ticket
By David Currie
Reporting Scotland presenter
Last updated on .From the section Albion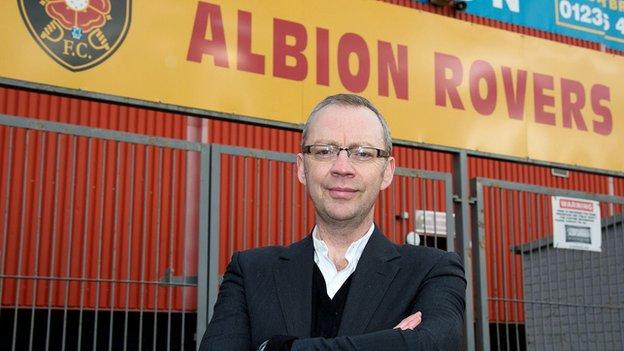 Albion Rovers chairman John Devlin admits the club's new 'pay what you can afford' season ticket initiative is a risk.
Scottish League Two Rovers believe they are the first club in the United Kingdom to offer such a scheme.
"We want the club to be part of the community in Coatbridge to do that we need an audience," said Devlin.
"At the moment we have a hard-core support of a few hundred, we want to boost that."
The Cliftonhill club, who have a minimum charge price for the season tickets, finished the season outside the promotion play-off zone but almost caused a surprise in the Scottish Cup when they took Rangers to a replay.
"It's absolutely a risk and a risk we're willing to take," added Devlin of the new season ticket scheme. "It's worth taking.
"We're trying to re-stimulate a crowd here, re-stimulate interest in Albion Rovers in Coatbridge, bring along a bigger audience to watch the football.
"Personally, I think football's over-priced in Scotland. I think football at our level is over-priced. We are one of the first clubs that are trying to re-dress that
"We are good value, even for a normal entry ticket, compared to other clubs in Scotland.
"We don't know how many we'll sell. We did a similar exercise with a one-off game back in January. We had a 'pay what you can' game at that time and it went very well for us.
"In every metric that we measured it was an overwhelming success."