Sepp Blatter 'has drive to continue' as Fifa president
Last updated on .From the section Football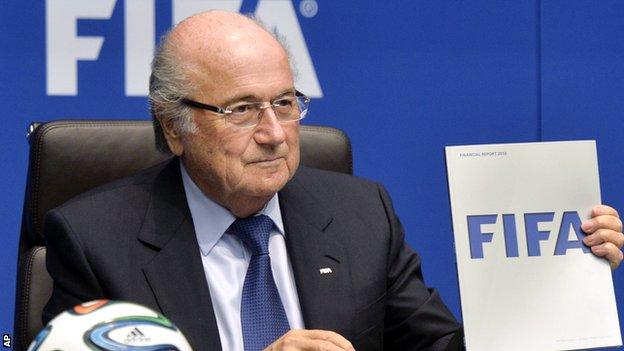 Sepp Blatter has given his clearest indication yet that he will stand for a fifth term as Fifa president in 2015.
But he told Swiss television station RTS: "Of course I want to continue. I have the drive to continue."
Last week, Blatter reportedly confirmed that he would certainly run again, but Fifa denied that was the case.
Fifa vice-president Jeffrey Webb and former deputy general secretary Jerome Champagne have been tipped as successors to Blatter, but both have said they would not stand in opposition to the current incumbent if he stood for election in Zurich in June 2015.
"The path to the throne is not yet open," Blatter added.
"There are a lot of people who would like to take this position but they realise it is not a bed of roses."
Speculation that Uefa president Michel Platini, who has been a close ally of Blatter, might succeed the Swiss at the world governing body has cooled since the former France midfielder opted against running in 2011.
Blatter appeared to dismiss the possibility that Platini could revive a bid for the sport's top job, saying the Frenchman "is a man with a very deep character, he wouldn't do it."
Blatter told the BBC in October that he had "a mission" to fulfil at Fifa, adding that he would support a proposal to increase presidential terms from four to eight years.
In his latest interview, Blatter also repeated his claim that awarding the 2022 World Cup to Qatar may have been a "mistake".
"Yes, it was a mistake," he said. "We all make lots of mistakes in life.
"The technical report from Qatar clearly indicated it was too hot in summer, but nevertheless, the executive committee, with a fairly large majority, decided that we would play in Qatar."
A subsequent Fifa statement stressed the point that Blatter was highlighting an oversight by the executive committee who voted for Qatar, rather than questioning the country's ability to host the event.