FA commission: Would a B league produce more Xavis and Iniestas?
By Alistair Magowan
BBC Sport
Last updated on .From the section Football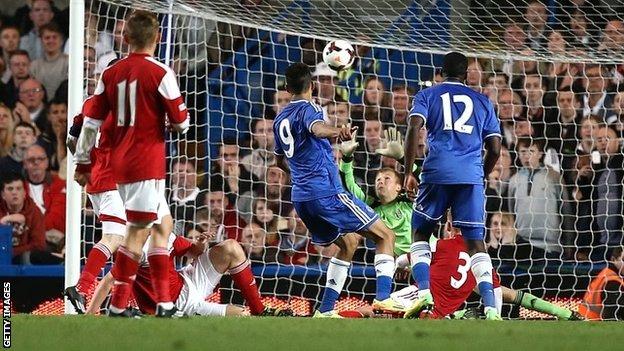 Reminiscent of a screaming grassroots manager who cares more about his team winning than anything else, English football has been accused of failing to put players at the core of its objectives.
With the Football Association Commission publishing its report stating that English football is "failing" if it cannot allow young footballers the chance to reach their maximum potential, at least chairman Greg Dyke has tried to re-address that balance.
The 82-page document, compiled after consulting 650 people across the game, recognises that decreased playing opportunities for English youngsters are crucial to the longer-term success of the England team.
There has been criticism surrounding the more radical proposals, such as a new tier - between League Two and the Conference - which will house Premier League B teams.
But is the uproar because various stakeholders are looking after their own interests rather than putting players at the heart of English football?
Critical to the B league idea is the development of 18 to 21-year-olds, also known as the "black hole" of English football.
According to the FA commission's findings, only 32% of starters qualified to play for England in the 2012-13 Premier League season, compared to 69% 20 years ago. More worryingly, the number of English under-21s playing in the top-flight reached a new low last season as they struggle to get into first teams.
As Dyke said: "If we don't arrest the decline, you feel quite bleak about the future of English football."
The Premier League has already recognised the problem. They saw that players were not reaching a "world-class" mark via its clubs' academies so introduced its Elite Player Performance Plan two years ago.
In it, they set out to improve the standard of coaches, increase the contact time with players and grade academies so the best players were playing together.
All of those changes, it says, will take time to have an effect.
But while standards should improve, there is still a bottleneck at the end of their academy education. Players need more game time between the ages of 18 and 21 and the likes of QPR boss Harry Redknapp say the current Under-21 Premier League is not competitive enough.
Without that fine-tuning, young English players fail to break through to first teams and more seasoned foreign players are bought instead. The situation is not helped by the increasing job insecurity felt by managers in England.
Liverpool boss Brendan Rodgers, who is an advocate of the B league proposal, said: "People will always talk about the tradition of the game here in this country, but one of the things that's most constant is change and you have to look at ways in which you can give young players a chance."
There are signs that the current loan system bridges this gap by allowing players to gain experience at lower league clubs. There are many good examples such as Sunderland striker Connor Wickham, whose goals have played a key part in keeping the Black Cats in the top-flight after a loan spell at Sheffield Wednesday.
Tottenham winger Andros Townsend broke into the England team after a successful loan period at QPR last season.
In that sense, some have questioned what needs to change. But for every Wickham or Townsend, there are the likes of Chelsea midfielders Josh McEachran or Nathaniel Chalobah, who have failed to establish themselves at Stamford Bridge despite playing for seven different clubs on loan between them. Their time may yet come.
So how would the new proposals help?
In McEachran and Chalobah's cases, a B league might be a step below them now. Both have played for Championship clubs but if, at 16, they had played against League One and Conference sides who had joined the new League Three, would they have been more developed?
They certainly would have earned more playing time, which Preston striker and former Bolton captain Kevin Davies has previously stated is the biggest advantage of starting his career at Chesterfield.
Davies, who went on to play for England, was in the first team of the third-tier side by the age of 16 and earned more than 130 appearances before he signed for Premier League side Southampton as a 20-year-old.
If a 16-year-old, who had received top-class coaching from the age of five, was playing regularly in League Three against a mix of Premier League B sides and more established lower-league clubs, arguably, he would receive a more rounded education.
The report cites the benefits of playing in front of crowds and against players who would be playing for their livelihoods.
Alternatively, another of the FA Commission's ideas could come into play.
The "strategic loan partnership" allows Premier League and Championship players to go on loan to clubs below the second tier and the FA hopes it will avoid the pitfalls of the current system where clubs are reluctant to loan out young players on a longer-term basis.
Some clubs say a player's development can be harmed because of a different style or poor training methods, but this new arrangement will allow the club to have more say on tactics, fitness and the player's welfare. Up to eight players can join a team at once and it could lead to a wider sharing of skills.
It remains to be seen how receptive lower league clubs would be to this.
The idea of a B league has been borrowed from countries such as Spain and Germany, where 18 to 21-year-old players from those countries have experienced almost treble the playing time in first team or B team games during the first half of this season.
Several big clubs such as Barcelona and Real Madrid have B teams in the second tier of Spanish football. In the Bundesliga, B teams compete in third tier, although some teams are planning on dropping them because it is too expensive.
Although these sides tend to draw crowds of a few thousand, Everton boss Roberto Martinez is in favour of following the Spanish example.
Martinez, who played for Real Zaragoza's B team in Spain before moving to Wigan in 1995, said: "The FA has come up with something I think is very exciting. B sides work, if you work at it properly. I would be in favour of it and we would all get the benefits."
Overall, the plans appear to hand another advantage to Premier League and Championship clubs, with League One, Two and Conference sides suffering.
How will the proposals affect non-league clubs reaching the Football League? Is it fair to expect them to comply with Financial Fair Play if they are competing against B sides with players earning vastly-greater salaries?
There also issues surrounding the stockpiling of players at Premier League clubs. Will this now increase at teams like Chelsea?
Portsmouth chief executive Mark Catlin said a B league would "destroy the whole fabric of the league structure.
Even Premier League chief executive Richard Scudamore says an alternative must be sought. He said: "We all understand the issue. I don't believe we should be interrupting or wrecking the pyramid of English football to achieve that."
There must be some doubt whether the suggestions will come to pass. In order to be pushed through, two-thirds of Premier League clubs would need to be in favour of the framework, alongside 75% of Football League clubs and 75% of Championship clubs.
But in floating these proposals, at least the FA has shifted the focus onto players. And in the second part of the commission's report, due out in the autumn, the hopes will be that the more wider concerns about coaching and grassroots facilities will be addressed.
Hopefully, on that occasion, there will be a more broad agreement.